65% mechanical keyboards offer a delightful blend of compactness and comfort, perfect for both heavy-duty typing and gaming.
In this blog post, let's explore the best 65% mechanical keyboards available, what makes them the best type of keyboards on the market right now, evaluating their features, cost, durability, and more.
The Best 65% Mechanical Keyboards: Our Top Picks
Type
Keyboard
Features
The Ultimate & Safest Pick
Tofu65
Various types of cases, plates, and switches.
Simple design that never gets boring.
The First Pick for DIY Keyboards
Tada68
Very cheap, easy to customize, sounds great for the price.
The Rising Star
Keychron Q2
Solid pre-built keyboard for the price.
Simple design that never gets boring.

Tofu65 – The Ultimate Choice
As I unboxed the Tofu65, the first thing that caught my eye was the selection of Brass, Aluminum, or Polycarbonate plates. The radiant RGB Underglow was a sight to behold, and the options for a Hot-swappable or Soldered PCB were a nice touch. The case, available in Aluminum or Acrylic, added to the premium feel of the keyboard.
Upon first use, I immediately noticed the heft of the Tofu65. The integrated brass weight gives it a substantial, high-quality feel that sets it apart from the Tofu60. The 65% layout, complete with arrow keys and a home row cluster as standard, was a welcome addition.
However, the Tofu65 doesn't follow the crowd. It deviates from the layout of the KBD67/KBD67 Lite, a layout that's become a staple in the custom keyboard community. The Tofu65 lacks a right arrow blocker, resulting in all 1U modifiers. This was a key detail I had to consider when planning my keycap set purchase.
As I started using the Tofu65, I realized that it required more tweaking than other boards due to its "basic" nature. I tried Keybored's O-Ring Mount Mod, Plate Foam, Tape Mod, and PE Foam Mod to improve the sound. I also explored different keycap profiles and plate materials for a deeper or more muted sound.
Loudness can affect perceived pitch, and the Tofu65 can sound different depending on the switches used and the amount of foam added. For instance, when I used Boba U4Ts, which are "deep" sounding tactiles, the keyboard sounded louder and higher pitched compared to when I used quieter, deep-sounding Ink Blacks.
The Tofu65's tray mount design can also contribute to sound inconsistencies due to the positioning of the standoffs. For example, I noticed a thocky spacebar followed by a high-pitched left shift because there's a standoff right beside it.
In conclusion, the Tofu65 is a solid keyboard that offers a lot of customization options. It might require some tweaking to achieve the desired sound, but with the right modifications and keycap choices, it can be a great addition to any setup. It's a keyboard that invites you to play, to experiment, and to find the sound that's uniquely yours. So, if you're up for the challenge, the Tofu65 might just be the keyboard for you.

Tada 68: The Customizable Powerhouse for Beginners
I highly recommend the Tada68 mechanical keyboard for those who value performance and customization. Its 65% layout is both compact and customizable, making it an ideal choice for keyboard enthusiasts. Although it can be challenging, building your own keyboard using this model can be a rewarding experience based on my personal use.
The Tada68 comes in two forms: a fully assembled version and a DIY kit.
The pre-built version, which I opted for, comes with high-quality PBT plastic keycaps with dye-sublimated black legends. These are housed in a sturdy plastic case over an aluminum plate, providing a solid feel and a satisfying typing experience.
The keyboard is entirely programmable via TMK firmware, allowing you to tailor the layout to your specific needs. Prices vary from $99 to $119, depending on your chosen switches.
One of the highlights of the Tada68 is the wide range of switch options. You can choose from Gateron blacks, reds, browns, blues, and Cherry MX blacks, blues, browns, reds, as well as Gateron silent reds, blacks, and browns. I personally went for the Gateron reds, known for their smooth keystrokes and quiet operation.
The price corresponds with your switch choice, giving you control over your keyboard's feel and cost.
The Tada68 embraces a minimalist aesthetic, forgoing RGB lighting or translucent keycaps for a clean, professional look.
If you opt for the DIY keyboard kit, you can select a plastic or aluminum case in various colors, pushing the price up to $149. This allows for further personalization, letting you match your keyboard to your workspace or personal style.
If you choose to go the DIY route, you'll need to purchase your switches and LEDs if you desire RGB lighting. However, be aware that configuring the firmware can be a bit of a hassle, especially for beginners.
Also, the non-standard bottom row could pose challenges for keycap replacement. Despite these challenges, building the Tada68 was a rewarding experience, giving me a keyboard that was truly mine.
The Tada68 offers a unique blend of customization and quality. Whether you're a keyboard enthusiast looking for your next project or a professional seeking a reliable and personalized typing tool, the Tada68 is a worthy contender.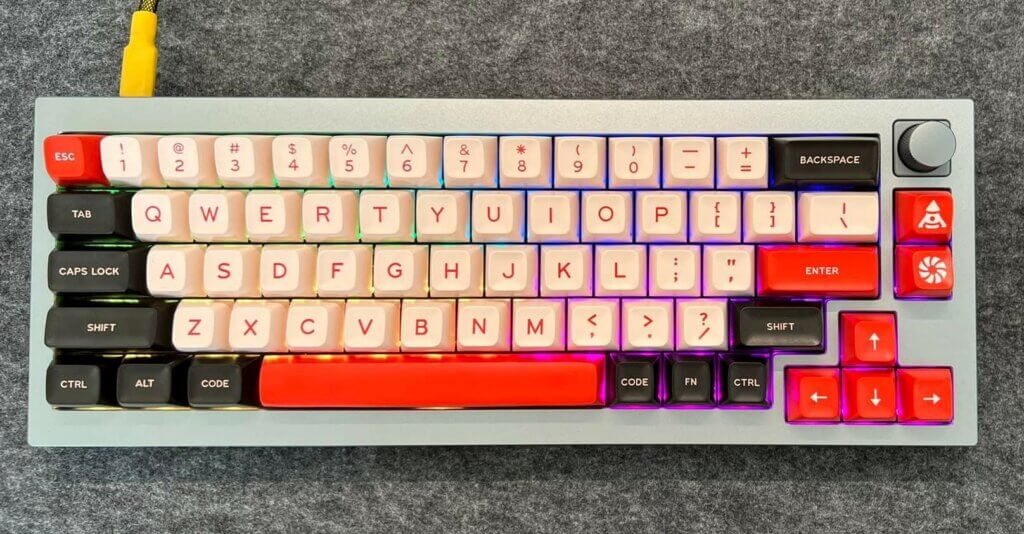 Keychron Q2 – The Rising Star
Introducing the Keychron Q2, a keyboard that exudes class and elegance, packed with many options. Sporting a range of keycap designs and themes, these keyboards emanate a premium, custom-like feel.
What's even better? You can tweak them further if you wish. But, here's the catch – you don't have to. The Keychron Q2 is music to your fingers right from the get-go.
You can either purchase the full kit or get it preassembled with pre-lubed switches and durable PBT keycaps. The cost is around $180, which is a steal for such premium quality. An optional addition is a fancy knob for added flair.
The keyboard's gasket-mounted design ensures a lively typing experience. Feel free to dismantle it and customize the insides. Various modifications you can try include: Mod stabilizers, different foams, tape mod, PE foam mod, changing keycaps, etc.
It comes with QMK/VIA software, eliminating the need to download dubious software. VIA, a browser-based software, is compatible with most custom keyboards.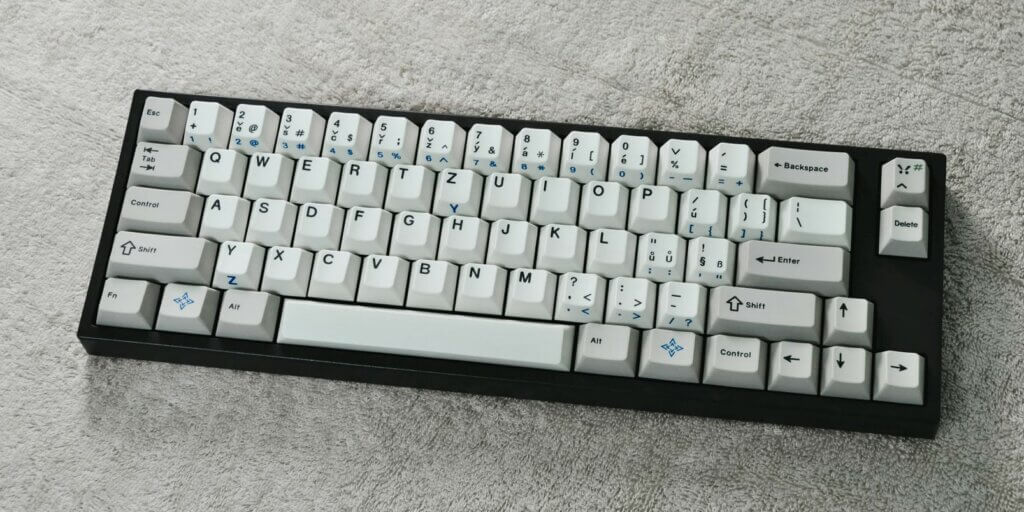 Leopold FC660C: Highend Topre Keyboard
The Leopold FC660C is a mechanical keyboard made by a renowned brand known for their high-quality products. This keyboard is a testament to Leopold's legacy and is highly regarded for its PBT keycaps and unique Topre switches. It provides a premium typing experience that is difficult to find elsewhere.
The FC660C is equipped with Topre switches, which are entirely different from standard Cherry MX switches. They offer a feel akin to Cherry MX Browns, but more refined. Many keyboard enthusiasts, including myself, consider Topre switches as superior in terms of feel and sound to regular mechanical switches.
The FC660C is not just about the typing experience. It houses 4 DIP switches at the back, alongside four rubber feet and two kickstands for adjustable typing angles. Its default typing angle already offers a comfortable inclination.
The build quality of the FC660C is impressive. The case feels sturdy and makes no creaking noises when twisted. It's made from a thick plastic and is brick-shaped with a slight typing angle. The back of the keyboard has rubber feet to keep the keyboard from sliding.
The keycaps are where the FC660C really starts to shine. With thick double-shot PBT keycaps, the keycaps are super durable and feel really nice to type on. The injection-molded legends make the colors really pop, so the white-on-black colors look crispy.
The stabilizers on the FC660C feel really good. They come in the standard Cherry stab design, so you're able to install most keycap types. While not lubed, the stabilizers offer a very smooth and stable typing experience.
If you're in pursuit of a distinctive mechanical keyboard, the premium-priced FC660C might be your answer. Despite a few minor drawbacks, such as the mini-USB port and rubber feet that fall off easily, this keyboard simply needs a bit of an update.
When the keyboard was released a while back, it was an excellent design all-around, but now it could benefit from a few tweaks and a bit of love from Leopold.
Overall, I really enjoyed the keyboard and had a blast testing it. The keycaps are some of the best I've received out of a box and the typing experience is a lot of fun.

Iqunix F65/Q66
Next up are the Iqunix F65 and Iqunix Q66 keyboards. The only distinction lies in the layout. While F65 keyboards employ a one-piece layout, F66 keyboards separate the navigation keys.
Known for their premium quality, Iqunix keyboards can be found on the IQUNIX website. With a price tag of approximately $150, the F65 and Q66 offer a truly rich typing experience.
The switch options include TTC Gold Pinks, TTC Speed Silvers, and Holy Pandas – all ultra-smooth, clacky, and pre-lubed. These hot-swappable keyboards allow for easy switch replacements.
IQUNIX keyboards boast an aluminum body, ensuring longevity. These keyboards connect through a USB-C cable, Bluetooth, or a 2.5Ghz dongle, offering versatility in terms of device compatibility.
Plus, they are compatible with Windows, Apple, Android, and iOS.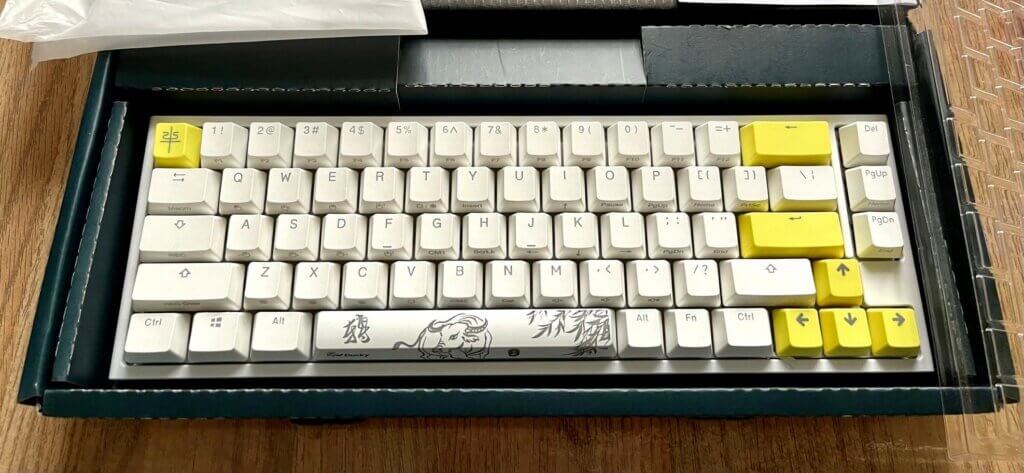 Ducky One 2 SF: Best for Gamers
Ducky One 2 SF secures the third spot on the list, offering two color choices: black and white.
This keyboard sports sturdy and long-lasting double-shot PBT plastic keycaps and RGB LED lighting.
The switch options are plenty: Cherry MX Black, Brown, Red, Blue, Silver, and Silent Red. Its well-constructed ABS plastic case features USB-C connectivity on the left side, with two adjustable kickstands at the bottom.
The only caveat is its non-standard bottom row, which might make swapping keycaps slightly challenging.

Keychron K6: The Budget Option
The Keychron K6 is an innovative keyboard that gained popularity through a successful Kickstarter campaign.
The K6 is a feature-rich offering with wireless connectivity, Mac compatibility, and hot-swappability. It's an absolute pleasure to use, especially considering the difficulty in finding hot-swappable features in a keyboard of this size without a hefty price tag.
One minor downside is the keyboard's substantial thickness, necessitating a wrist rest for comfort. The keycaps, though a bit low-contrast and flimsy, can be easily upgraded to a thick PBT set for an enhanced typing experience.

Akko 3068: The Compact Powerhouse
The Akko 3068 is a highly regarded 65% keyboard available in various colors and keycap designs. The price of the keyboard depends on the style you choose.
I recently bought a Akko 3068 keyboard from Amazon that features clicky Cherry MX blue switches. It has 68 keys and a handy USB-C connection. If you prefer Cherry MX switches like reds or browns, you can check out other stores for those options.
The keyboard has a durable plastic case and a comfy natural incline. It also has rubber feet, but doesn't come with flip-up feet.
This keyboard features Bluetooth technology that allows it to switch between wired and wireless modes and can pair with up to three devices. While it doesn't have any backlighting or RGB, it still impresses with an impressive 120-hour battery life when used in wireless mode when used in wireless mode.

MagicForce 68: The Cheapest 65% Keyboard
When I first laid my hands on the MagicForce 68 by Qisan, I was immediately struck by its minimalist all-white design, adorned with black legends.
This wired 65% keyboard, with its clean lines and sleek aesthetics, instantly added a touch of sophistication to my workspace, all without breaking the bank.
The MagicForce 68 isn't just about looks, though. As I began to type, I was pleasantly surprised by the unique aesthetic of its floating style design. The exposed switches created a visual rhythm with each keystroke, a feature that not only added to its modern appeal but also made cleaning and maintenance a breeze.
I was impressed by the durable and harmonious blend of plastic and aluminum elements that make up the keyboard's case. The detachable Mini USB cable was a thoughtful addition, making it easier to carry and use.
The MagicForce 68 keyboard was a reliable companion whether I was working from home or a local café.
One of the standout features of the MagicForce 68 is its focus on user comfort and customization. It comes equipped with two kickstands and rubber feet, providing stability and allowing me to adjust the keyboard's angle to my liking. As someone who spends hours typing, this feature was a godsend, reducing fatigue and enhancing my overall typing experience.
But what truly sets the MagicForce 68 apart is its flexibility. The keyboard allows you to replace all the keycaps with your preferred set. As I experimented with different keycap sets, I realized that this feature opened up a world of customization options, allowing me to make the MagicForce 68 my own truly.
Some people even make their own cases for their MagicForce 68 to customize it further.
My journey with the MagicForce 68 has been nothing short of remarkable. It's a testament to the fact that quality and affordability can go hand in hand. This budget-friendly keyboard doesn't skimp on features or style, making it a worthy addition to any tech arsenal.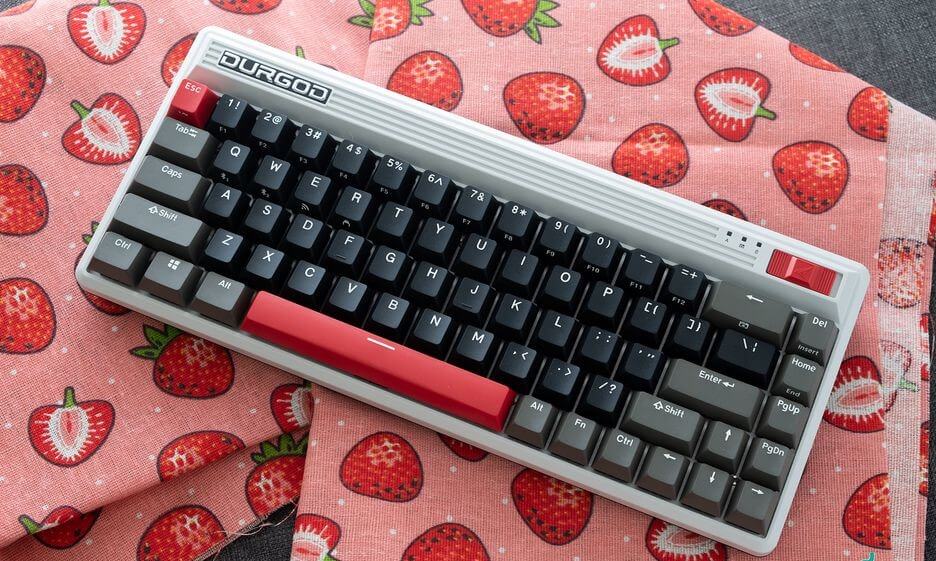 Durgod Fusion: The Retro Revival
The Durgod Fusion, the newest entrant on this list, is gaining popularity for its retro-themed design and cutting-edge features.
Despite its price, the Durgod Fusion boasts Cherry MX switches, which are usually found in higher-end keyboards. Moreover, it supports the latest Bluetooth technology, ensuring a seamless connection without any noticeable latency. The keyboard also offers a 2.4Ghz connection option, with the dongle cleverly hidden under the Durgod logo.
One of the standout features of the Durgod Fusion is its impressive battery life. Users have reported that it lasts for weeks on a single charge, even with daily use for 6-10 hours per day.
The Durgod Fusion is supported by the Zeus Engine software, which allows for easy key rebinding and macro creation. It also enables users to bind Launch Program commands and Mouse functions very easily. However, it may take some time for users to figure out how to use the onboard profile when the Zeus engine is closed.
The Durgod Fusion is a treat for the eyes, especially for those who appreciate a good retro aesthetic. It features a classic Nintendo colorway that evokes nostalgia, along with red accents and a USB dongle under the Durgod Logo.
The keyboard has a distinct metallic ping, which some users might find appealing. However, others have noted that the board sounds hollow and pingy when it's stock. If you're not interested in doing some mods, you might not enjoy this aspect as much.
While the Durgod Fusion is a bit on the expensive side, users are essentially paying for the looks and the time it will take to fix it themselves. There are other Bluetooth, hot-swappable, multi-function keyboards out there at much lower prices.
If you're a fan of the retro theme, the Durgod Fusion offers an IBM Model M feel coupled with modern technology, making it an excellent option for both aesthetics and functionality. However, it might not be the best choice for those who just need a new keyboard and are not interested in its unique features and design.
For those who love all things 80s retro, this keyboard could be a perfect fit, especially if they're willing to do some modding.
Understanding 65% Mechanical Keyboards
A 65% keyboard, a size standing midway between 60% and tenkeyless keyboards, is a space-saving solution for those who seldom use the number pad or function row.
Coming with around 68 switches and keys, it's an excellent option for small desks and portability needs.
What to Consider Before Buying?
Be aware of a 65% keyboard's unique characteristics:
Non-Standard Layout: Some 65% keyboards feature non-standard keys, complicating keycap replacements. Make sure to research if you plan on customizing your keyboard.
Absence of Function Row: Regular users of the function row may find the 65% layout challenging initially. Function keys are accessible through an additional layer beneath the number row, necessitating a slight adjustment.
Key Features of 65% Keyboards
Compact Size: With typically 66-68 keys, these keyboards help save desk space, improve aesthetics, and provide mobility.
Key Inclusions: Along with an additional right-side row for Del, Page Up, and Page Down keys, a 65% keyboard includes a correctly placed arrow key cluster but lacks the function row.
Various Layouts: Two common 65% layouts offer distinct experiences. One keeps all keys closely packed for ultra-compactness, while the other separates the home cluster and arrow keys for a more comfortable feel, mimicking a TKL layout.
Conclusion
In our guide, we explored the best 65% keyboards on the market right now and what make them the ultimate choice for all keyboard lovers.
We skipped ergonomic options, as they're rare in the 65% layout. However, all keyboards on our list are top-tier in their categories, offering guaranteed satisfaction.
We also explored the advantages of the 65% keyboard layout, as well as some potential pitfalls to be aware of. Additionally, we touched on the various design variations you may encounter when searching for the ideal 65% keyboard.
We hope that this guide proves useful in your search for a keyboard that offers many benefits.