For mechanical keyboard, the best tactile switches are the ones you must take a look if you write a lot.
It can be hard to find the right tactile switch at first as there are a ton of them on the market right now.
We're going help you choose a tactile switch by giving you a collection of our favorite switches based on how they sound, feel, and work.
We have tried a lot of different switches to find the one that has the best feel. It's great for typing.
Here is a brief look at the best tactile switches for mechanical keyboards
Holy Panda
Glorious Panda
Boba U4T / Boba U4 Silent
Cherry MX Brown
WS Brown
Ajazz Kiwi
Below, we'll go over how and why we pick each tactile switch and ranked them.
We will also go through the specifications and how long they last. We will also give our thoughts on how they look and feel.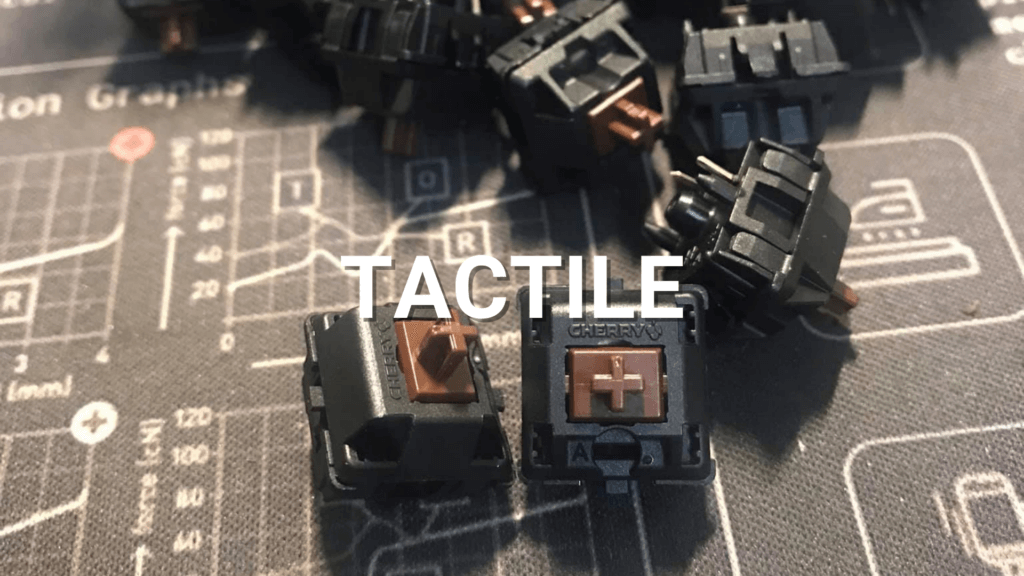 What is Tactile Switch?
In the mechanical keyboard world, there's a lot of slang that people use, and if you're completely new, it can be hard to figure out.
A mechanical keyboard switch is the part under each key that holds your finger in place as you type and registers each letter or number.
On mechanical keyboards, each button has its own switch, which makes them high-quality and very durable. They also have a lot of cool features, like N-key rollover, which lets you move more than one key at a time.
Tactile switches are a type of switch that try to make each keystroke feel good and make a sound that isn't too loud.
Besides tactile switches, there are linear and clicky switches as well. For now, we're only going to talk about tactile switches.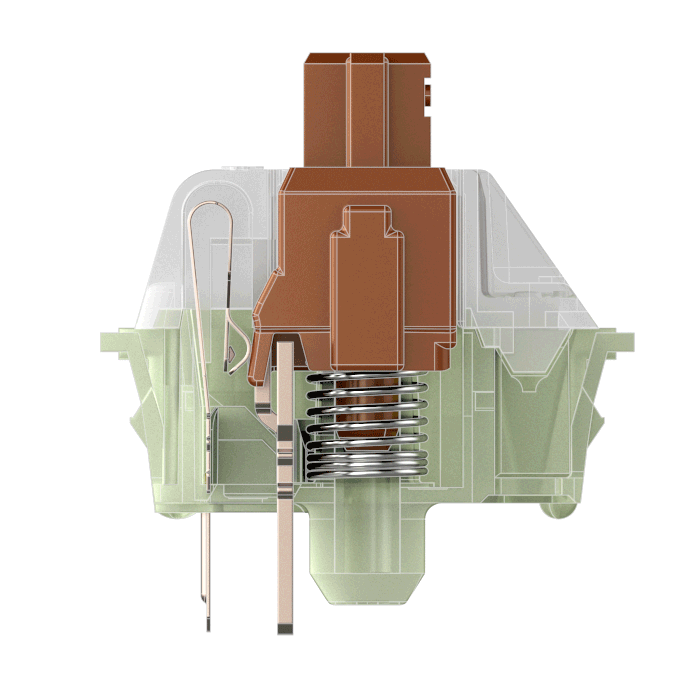 Tactile Switches: Things You Should Know
Tactile switches are enjoyable to use and give you a lot of feedback as you type, but there are some things you should think about before you buy a keyboard with tactile switches.
You should start with tactile switches if you're new to mechanical keyboards and want to learn how to type with it. There is no doubt that these keyboards will be a big improvement over your laptop keyboard or membrane style keyboard.
A keyboard with tactile switches is easy for anyone to use. Each time a key is pressed, it makes a satisfying bump.
When you type, tactile switches make a bump of different sizes and make a small tactile sound.
These switches are not as loud as a clicky switch, so you'll be able to use them in public without attracting attention with the noise.
People who are getting a mechanical keyboard for the first time should get a switch with a tactile feel.
Best Tactile Switches
Glorious Panda: The Most Rapid Tactile Switch
Note: If you aren't concerned about the price, get Holy Panda, which is generally better, but much pricier. Read more: Holy Panda vs Glorious Panda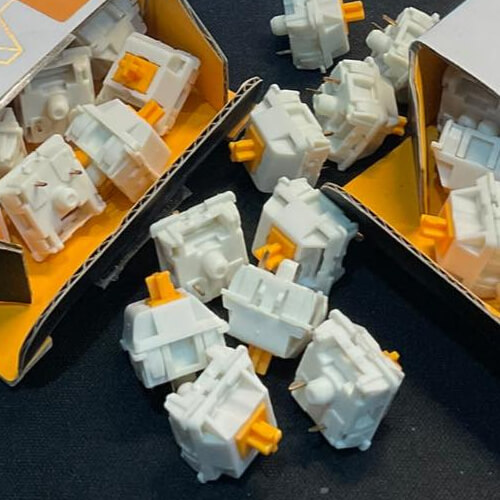 Glorious Panda is the switch that was made out of a lot of debate as a way to join the Holy Panda switch party.
By giving you a switch that is very similar but at a much lower price, Glorious gives you a completely unique switch that doesn't cost you a lot of money.
The tactile bump on the Glorious Panda is very different from any tactile switch I've tried before (except the Holy Pandas). It is very swift and makes a very special sound.
I believe this switch is great for people who want a really solid tactile bump which is more structured than the other switches on this list.
Durock T1
Durock switches are a great choice if you want a tactile switch with that nice shaped heavy bump that is easy to feel.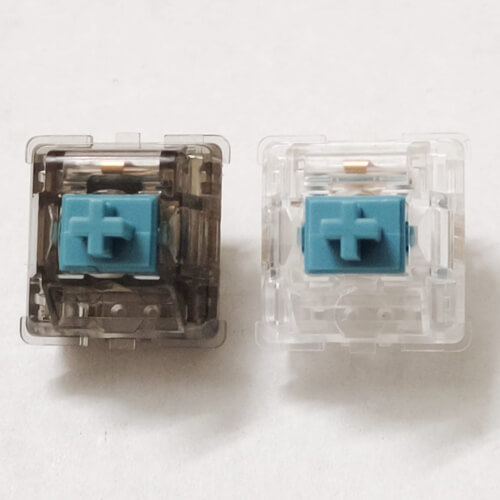 It will be easier to use the Durock switches than the Glorious switches if you want a lower sound. They will also be quieter because they aren't as snappy. To get a bump that's not too crazy, the Durock T1's might be a good choice for your keyboard.
This switch is cheap for what you get.
When we apply just little tad of lube and switch films, we find that it makes things feel a lot better. Switch films can help stop the switches from wobbling a lot, while the lube stops the switches from scratching and enhances the sound.
Boba U4 Silent Tactile Switch
Looking for a way to make a switch that is very quiet? Then look no beyond the Boba U4. The silicone dampeners that are connected to the stem of this switch make it a lot quieter.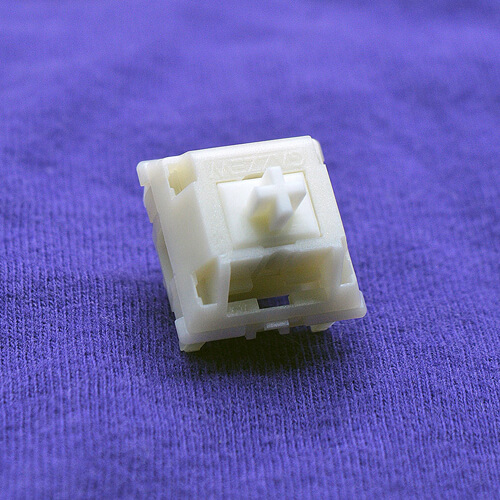 Make sure you know that the silent mode has a downside. A solid bottom-out won't be as satisfying as it used to be, and the switches may feel squishy when they're hit.
As a reward, silent switches don't make your fingers hurt as much when you type. You can assume to have less finger pain when you type for a long time.
And in the end, if you want a quiet switch, this is the one we recommend.
Boba U4T
The Boba U4T switches are mostly about making a nice "thocc" or thocky sound when you hit them.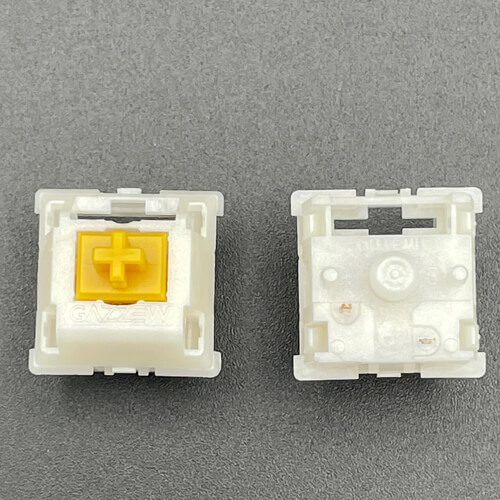 Without the silicone dampeners that were on the previous Boba U4 switch, you should have a much better typing experience, but you won't get the advantages of a quiet switch, like not having to deal with noise.
In fact, it's one of the most tactile switches in the industry. The bump that makes you feel it's quite big.
It's why the Boba U4T tactile switches are in a good place in the list.
Cherry MX Brown
Cherry MX Brown is the most common one you can buy.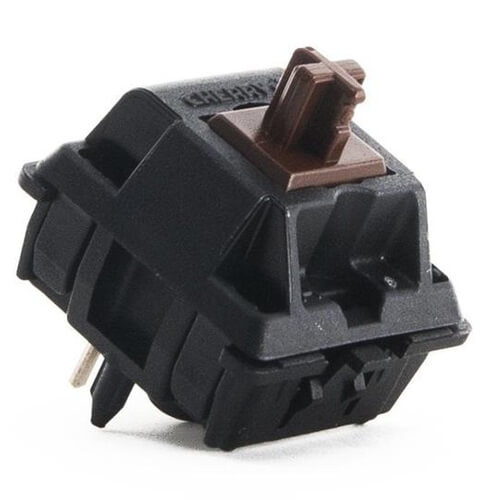 It doesn't feel like there's a tactile bump, but most people will like typing because it's so easy to do.
There are a lot of pre-built keyboards that come with Cherry MX Brown switches, so you should be able to easily find a lot of them.
They are the best when it comes to quality and durability. Cherry MX switches are the best. They are evaluated for 100 million keystrokes and have to go through a lot of testing before they reach the customer.
The Cherry MX switches do have trip length of 4mm, which will make the keys feel very normal.
Cherry MX Clear
The Cherry MX Clear Tactile switch has a very clear feel to it.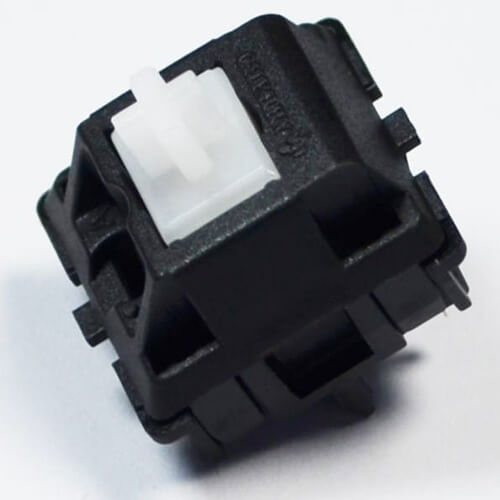 Little sister: Cherry MX Clear is like the Cherry MX Brown except it's heavier and has a bigger bump. The touch is very soft and not at all sharp.
If you like to write with a lot of force, the Cherry MX Clear might be a good choice for you. Only with Cherry MX name on it, you can be sure it will last a long time.
Being somewhat less common than the Cherry Brown switch, you'll generally have to buy the Clear switch and put it in your own keyboard.
Outemu Brown Tactile Switch
The Outemu Brown Switch is a great way to save money.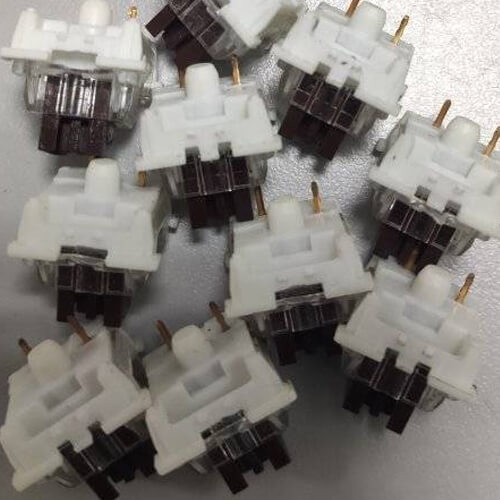 For people who don't have a lot of money to spend, Outemu makes the cheapest switches.
The Outemu Brown switch made it into this ranking at the very end because the switch is very cheap. If you don't want to spend a lot of money on switches, this one isn't bad.
In general, Outemu Brown switches aren't very good at being built. They will feel different from one switch to the next, and they may not last very long at all.
But if the goal of the game is to save money, Outemu could be a good choice.
Conclusion
There you go, that's the last mechanical keyboard switch we're going to talk about. We talked about what a tactile switch is, what to look for in a tactile switch, and which ones we liked.
Our preferred tactile switch is the Glorious Panda because it's cheap, easy to buy, and gives you a new way to type.
It can be hard to choose the suitable tactile switch because there are so many different kinds out there.
The best thing to do is get a switch tester and try out a lot of different switches at the same time. You don't want to get stuck with a switch you don't like.
You want a switch that feels great, sounds great, and doesn't break the bank.
It was fun to read, and have fun writing!