Artisan keycaps are a good way to enhance your keyboard based on your personality, and make your setup stand out. The drawback is only the considerable quoted price.
What are artisan keycaps? Why are they so expensive? And what are the best places (teams) to buy artisans? Here are what you need to know!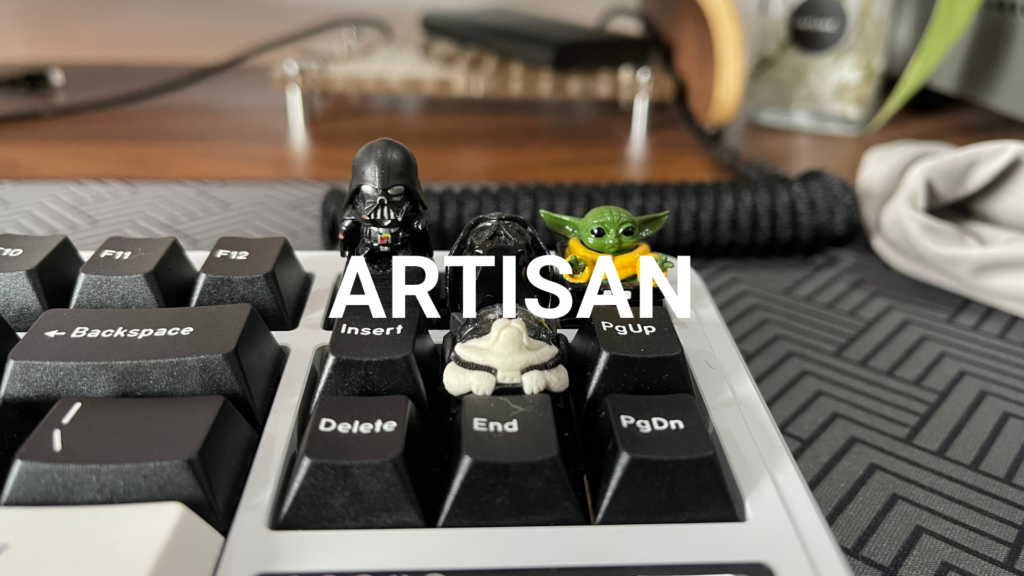 Where to purchase artisan keycaps
Let's review a few highly reputed retailers and discuss why they represent a great choice if you're searching for an artisan keycap.
Just consider the fact that buying something that is custom-made will always cost a lot of money.
Mechanicalkeyboards.com
This website is an excellent location to window shop if you're searching for somewhere to browse a ton of various creative designs. These artists are maintained in stock, therefore they ought to have a short delivery time and be less expensive than alternative possibilities.
The design will be less unique, which is the sole drawback.
These craftsmen are not produced in restricted quantities like many others.
This is an excellent spot if you're searching for something cool to add to your keyboard and aren't too concerned with how unique the keycap is.
Drop.com
Another good site for artisan keycaps is Drop.com.
The things offered for sale on Drop are available while stocks remain, so if you see anything you want, act immediately before it sells out completely.
When you use this link to place your order, we'll give you a $10 discount on your first purchase.
Prices will be slightly more than on mechanicalkeyboards.com, but that is because there are fewer items available. There won't be as many others using the same keycap as you.
etsy.com
Etsy is a good website for finding artisan keycaps that are both very trendy and culturally relevant.
It's a great place to go window shopping for an artisan keycap because there are many possibilities at a reasonable price.
The main drawback is that since each keycap design is often created by a different person, the quality can sometimes be questionable.
The easiest method to locate a good pick is to read all of the reviews and ask any questions you have to the supplier.
Ordering from Etsy carries a little bit more risk, so proceed with caution. The good news is that you can get some pretty fantastic designs with less money.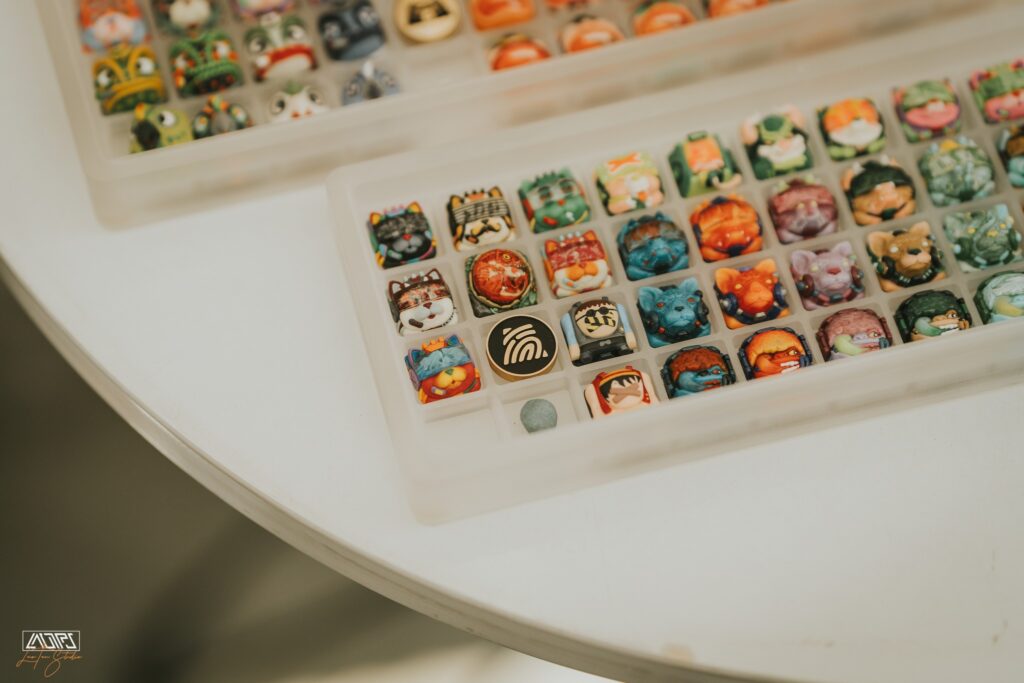 What Are The Best Artisan Keycaps?
There is no "best" artisan keycap as the market is still extremely new.
Finding a design that you like, matches your personality, and makes your keyboard seem fantastic is the whole point of artisan keycaps.
Instead of looking for the best, choose an artisan keycap that would look fantastic on your keyboard and is within your budget.
Additionally, make sure the artisan you select suits the keycaps' profile.
Keycaps often come in a range of sizes, styles, and colors. Some are flat, while others are carved.
Look for an artisan with the same profile as your keycap if you want them to be the same height. Any size should be OK if you don't have a problem with it.
Group Buy vs. In-Stock: How to Purchase Artisans
There are generally two ways to purchase something in the keyboard world. A product that is in stock and available for purchase right away from the manufacturer is the best option if you need it right away.
This is the most popular method of online goods ordering and is typically the least expensive one.
Group buys, however, are your best option if you're looking for a product that the manufacturer only produces in limited quantities and undergoes unique runs.
A future product that hasn't yet been produced can be purchased through group buys. Normally, you'll make an upfront payment and wait a few months while the business manufactures the thing. Be prepared to wait if you wish to participate in a group purchase.
Group purchases typically include the most intricate and distinctive designs, and as a result, tend to be slightly more expensive.
It ultimately depends on how quickly you need the product, how personalized it has to be, and how much money you are willing to spend whether you get artisan keycaps through group buys or already in stock.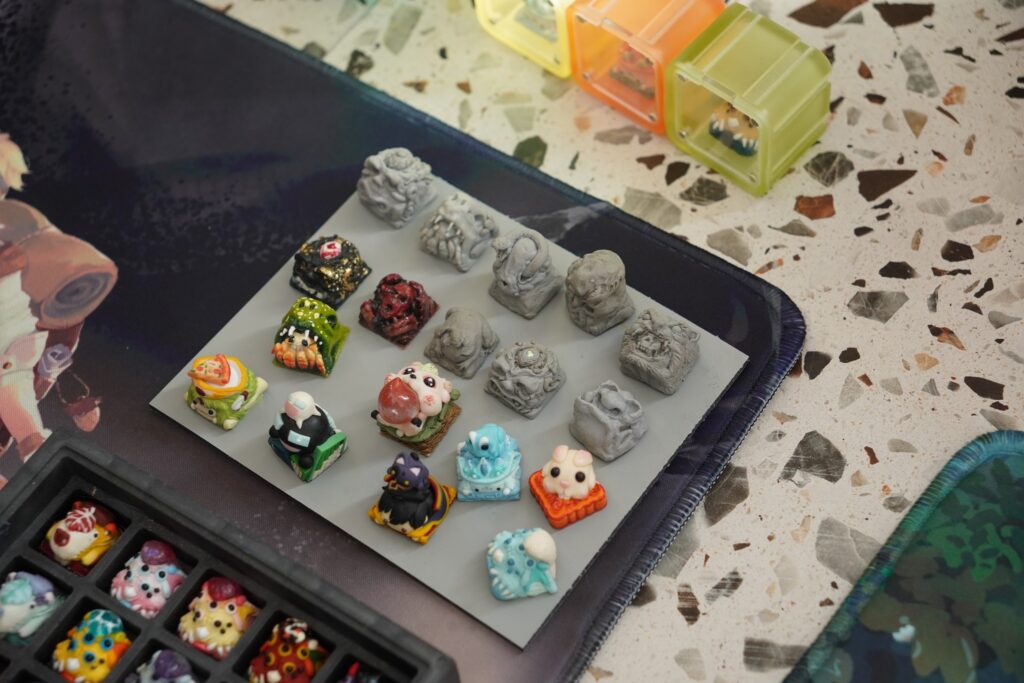 Why Do Artisan Keycaps Cost So Much?
The cost of artisan keycaps might vary widely, ranging from $10 and $100, sometimes even more.
Since artisan keycaps are made to order, the extra time and care will be put into creating each one.
The process can be laborious and time-consuming, which raises the cost.
The distinctiveness of artisan keycaps is another important feature.
There are many people out there who are prepared to spend a lot of money on a genuinely rare design that only a select few may own.
The sum of all these factors contributes to the high cost of artisan keycaps.
Summary
There are several places where you may view various keycap selections and choose the ideal match for your keyboard and personality.
Where and how you purchase the keycap depends on your spending limit and how unique/custom you want the keycap to be.