When it comes to high-end keycaps, there are two manufacturing technologies commonly used: double-shot and dye-sub keycaps.
What is the main differences between dye-sub and double-shot keycaps, and how do they compare? Let's go through them all in this article!
What are Dyesub and Doubleshot Keycaps?
The text on your keycap can be created using two processes: double-shot and dye-sublimation.
Dye-sub: The texts (legends) are printed on the keycap.
Double-shot: The texts (legneds) are inserted into the keycap using injection molding method.
These two technologies are far more durable, have a better feel, and are of higher quality than the other methods.


Dye-Sublimated Keycaps vs. Double-Shot Keycaps
The main differences between them are list below:
| | |
| --- | --- |
| Double-Shot Keycaps | Dye-sub Keycap |
| Text is injected using two layers of plastics | Text is printed using laser, dye, and heat |
| Fonts look sharper | Not as sharp |
| Any color | Text color must be darker than keycap color |
| All color combinations | Fewer color combinations |
| No feel while typing | No feel while typing |
| Colors never fade away | Super durable and could only fade after years of using |
| Plastic: PBT, ABS, POM, and more! | Plastic: PBT |
| LED and non-LED are all great | Best for non-LED keyboards |
| More expensive | Cheaper |
The Look
Both double-shot and dye-sub keycap texts look fantastic and are easy to read.
Due to the way how dye-sub legends are printed on, they may not always seem as clear, especially in lower-cost sets.
Many color selections are limited since dye-sub legends need to be darker than the keycap they are on. As a result, dark colored keycaps are no longer an option, and many dye-sub sets are lighter. One of the main disadvantages of dye-sublimation is this.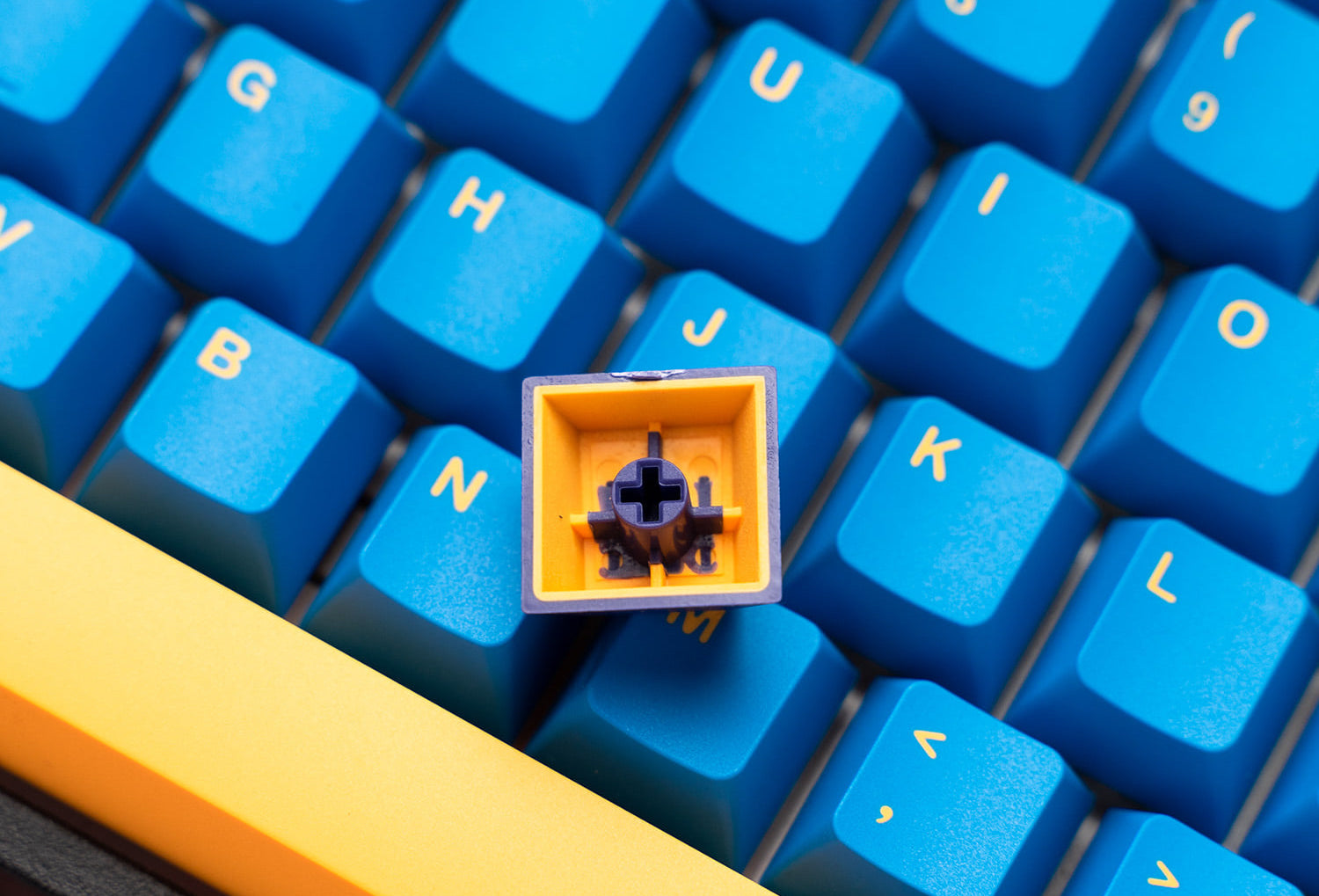 Double-shot texts, unlike dye-sub, can be any color, giving them an advantage over dye-sub sets. If you prefer a dark colored keycap set, these are the best alternative. Manufacturers can create sets with strong contrast and brilliant colors using this technology.
On the bottom side, dye-sub keycaps look like any normal keycaps, while double-shot keycaps have additional plastic from the injected mold creating the texts / icons.
Keycap Lifespan
Dye-sublimated and double-shot keycaps are both incredibly reliable.
Dye-sublimation is printed on the keycaps, which might give the impression that it isn't very durable, yet it is. Anyway, Double-shot is still the most durable method.
The legend is permanently imprinted onto the keycap as a result of the heat treatment technique. This legend can fade over time, but it is only after massive use that the entire upper surface of the keycap begins to deteriorate.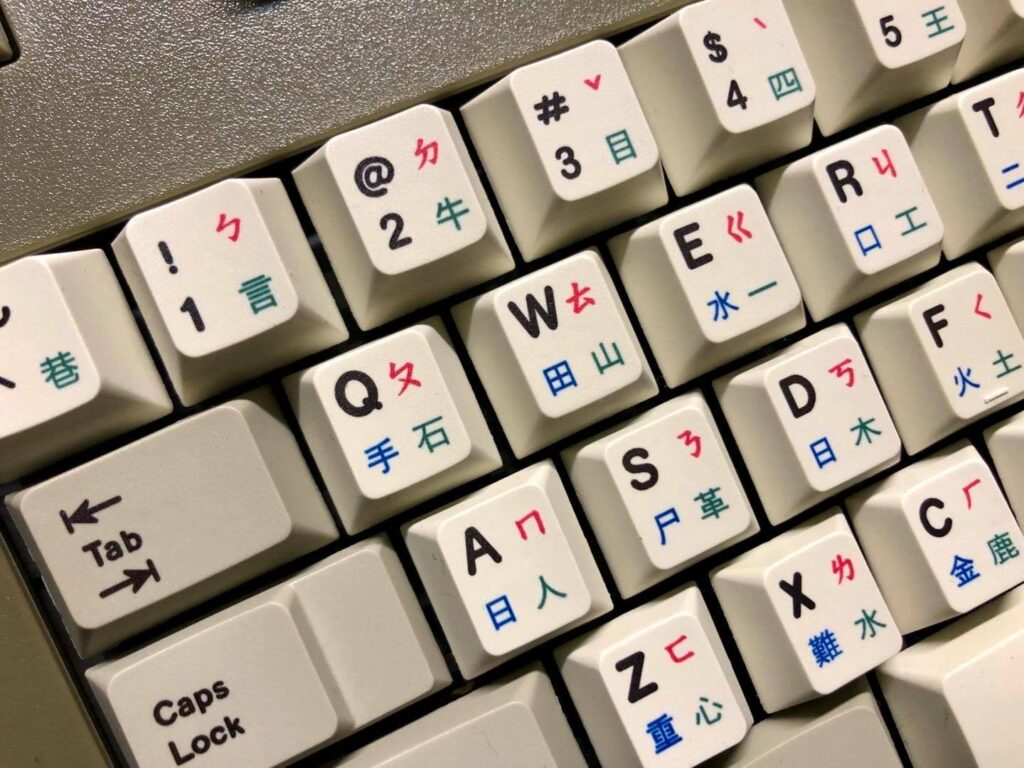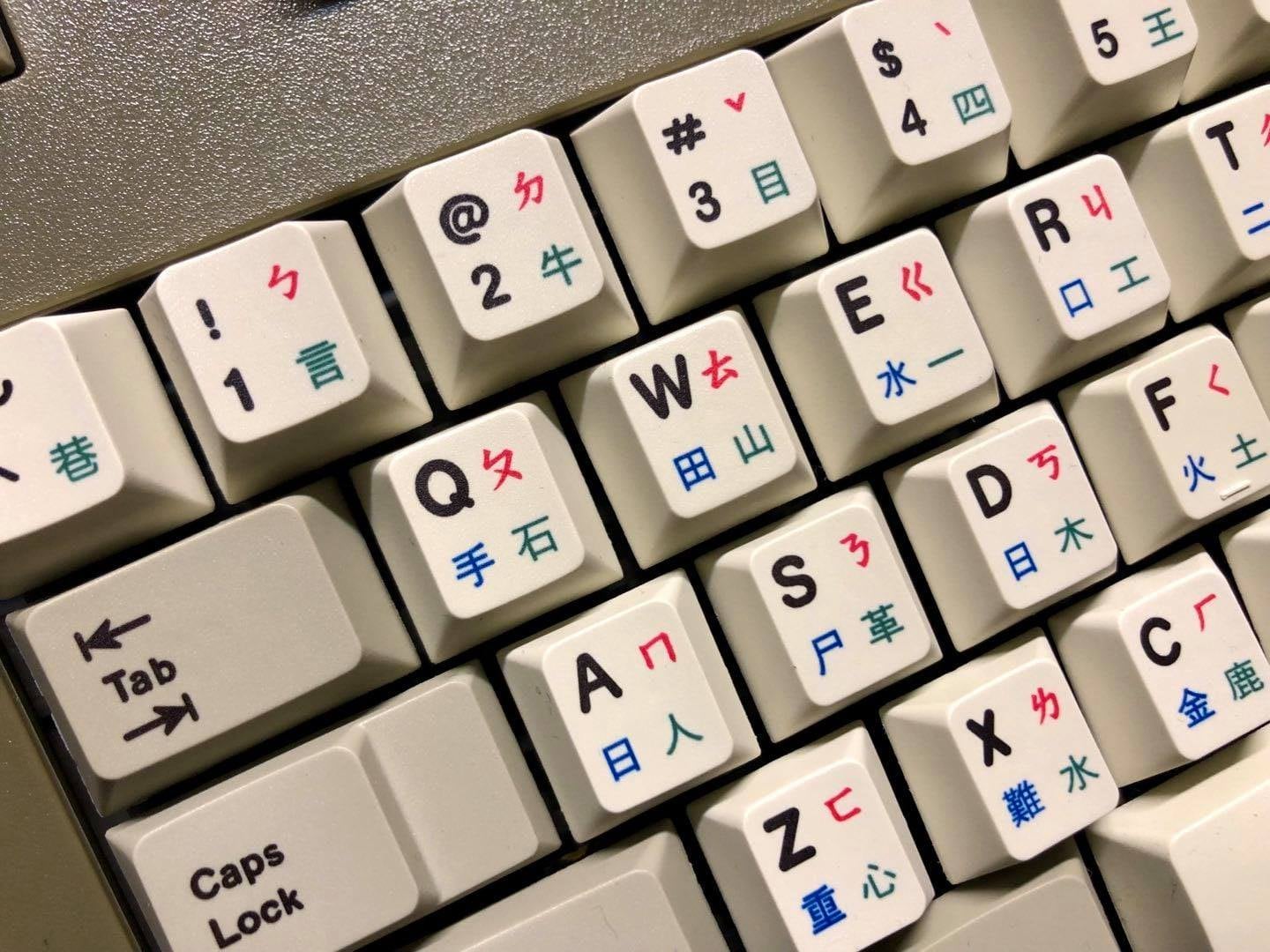 The legend on a double-shot keycap is a separate piece of plastic shot into the keycap. This removes the possibility of the text being faded after years. This is the most long-lasting keycap making technique.
Both methods are super durable, and durability should not be an issue in general. Double-shot keycaps are the ones you want to get if you are looking for the best durability.
The Price
Because the process is more complicated and needs more resources, double-shot keycaps are often much more expensive than dye-sub keycaps.
For each keycap, a mold is required. While some high-end dye-sub keycaps may be comparable to lower-cost double-shot keycaps, double-shot is generally more expensive.
Even though dye-sub is less expensive, it isn't always worse, and regularly it is a great choice for pre-built board manufacturers with non-backlit keyboards.
Although it was out at the time, vintage keyboards would employ the dye-sublimation process instead of double-shot because it is a less costly method.
Paying the extra cash for a double-shot pack is worth it if you want the greatest quality and better-looking keycaps with more color choices.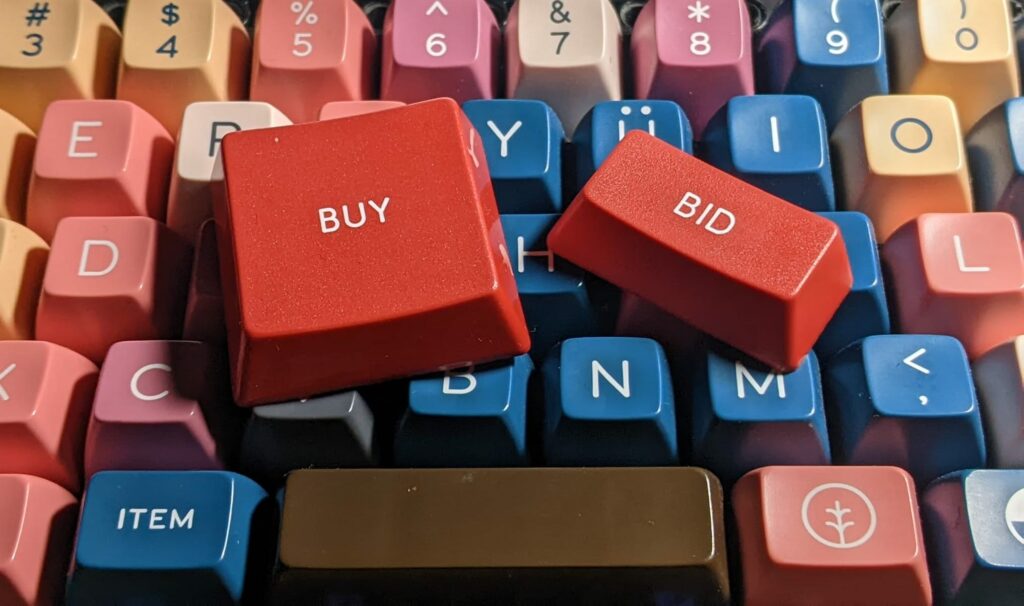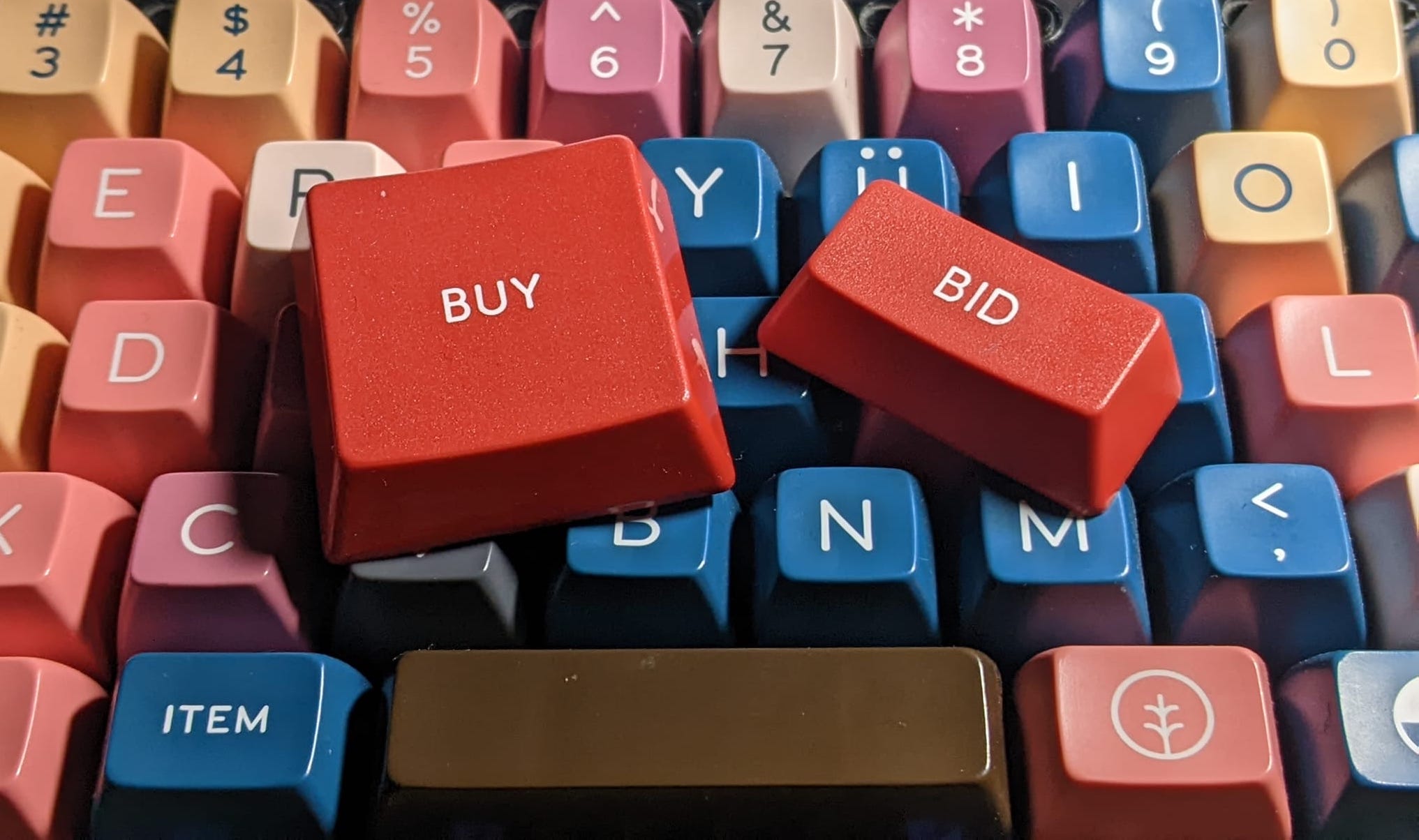 Common Usage
On lighting keyboards with RGB LEDs, double-shot keycaps are frequently shining through keycaps. They're also the preferred method for high-quality keycaps like GMK.
POM, ABS, and PBT are some of the materials that can be used in double-shot keycaps. This method is frequently applied to expensive ABS keycap sets. Because double-shot is a more expensive procedure, it's normally only found on aftermarket keycaps or higher-end prebuilt keyboards.
The dye-sublimation technique is used only on non-backlit PBT keycaps. This technology is commonly employed on high-quality keycaps and low-cost competitors to high-end sets from firms such as GMK or Drop.
Dye-sub is also quite widespread on Topre keyboards from companies like Realforce since it provides excellent quality and appearances at a reasonable price.
The vintage keyboards, such as the IBM Model M, used dye-sublimation-created keycaps, which is one of the reasons why vintage keyboards are well-known for their high-quality build.
Conclusion
Both of these types of keycap printing methods are of extremely high quality, giving the most durable keycaps with impressive colors.
Double-shot is typically more expensive, but it offers a lot more color choices, can be used on keycaps made from materials other than PBT, and will never fade away. If you want to have some high-quality backlit keycaps, double-shot is the way to go.
If you don't like LED and the color selections dye-sub keycaps provide are great enough for you, it's worth it because the feel and durability are comparable.
It is worth the extra cost to obtain a double-shot set if you need backlight, and something other than PBT, or a colorful or very dark colored set.