40% mechanical keyboards are a great option for those looking to increase their typing speed and portability. Often smaller and cheaper than a standard keyboard, this type of keyboard layout has fewer buttons, with no number pad, arrow keys, or the entire top row of numbers regularly found on larger types.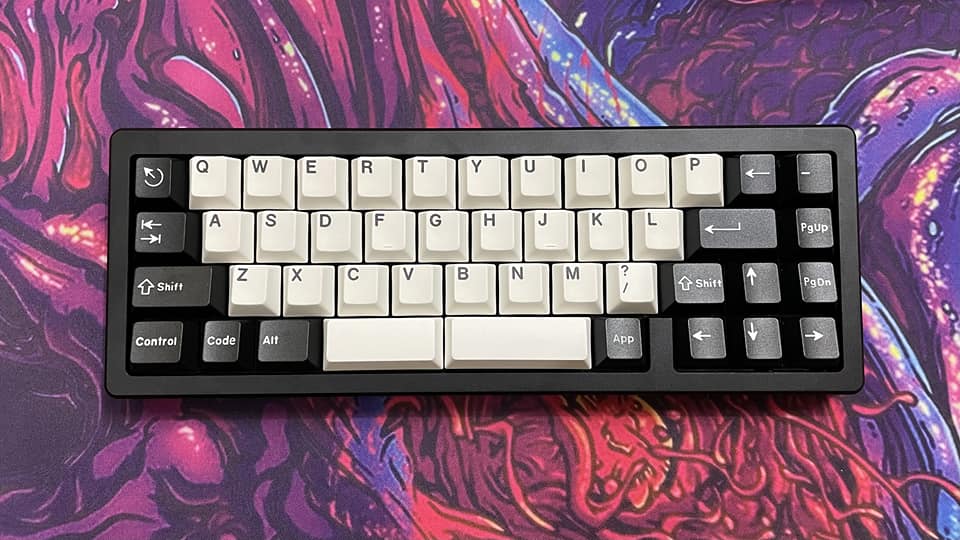 What is 40% Mechanical Keyboard Layout?
The lower key count of 47, in contrast to 104 of a regular keyboard, makes it much more lightweight and easier to take on the go. On top of this, the closer and more tightly packed keys promote a faster typing speed by reducing the distance your fingers have to move between buttons.
Whether you're looking for a keyboard to take on your travels, or just want to boost your typing speeds, a 40% keyboard is definitely worth considering.
Forty percent keyboards are one of the smallest and more uncommon mechanical keyboard types out there. Unfortunately, they are not ideal for those who require a number pad or arrow keys, as these things are not included with this type of keyboard.
40% mechanical keyboards usually have three rows of keys, which can be programmed to switch between two sets. For example, the top row may be QWERY, but you can switch it to 12345 with the keyboard's programmable settings. This makes them very popular with typists and programmers who like the ability to customize their keyset.
Now that we've explained what they are, let's look at the best pre-built and keyboard-kit options available. Pre-built keyboards come already assembled and ready to use. Keyboard kits come shipped together and require assembly after purchase.
Best 40% Prebuilt Keyboards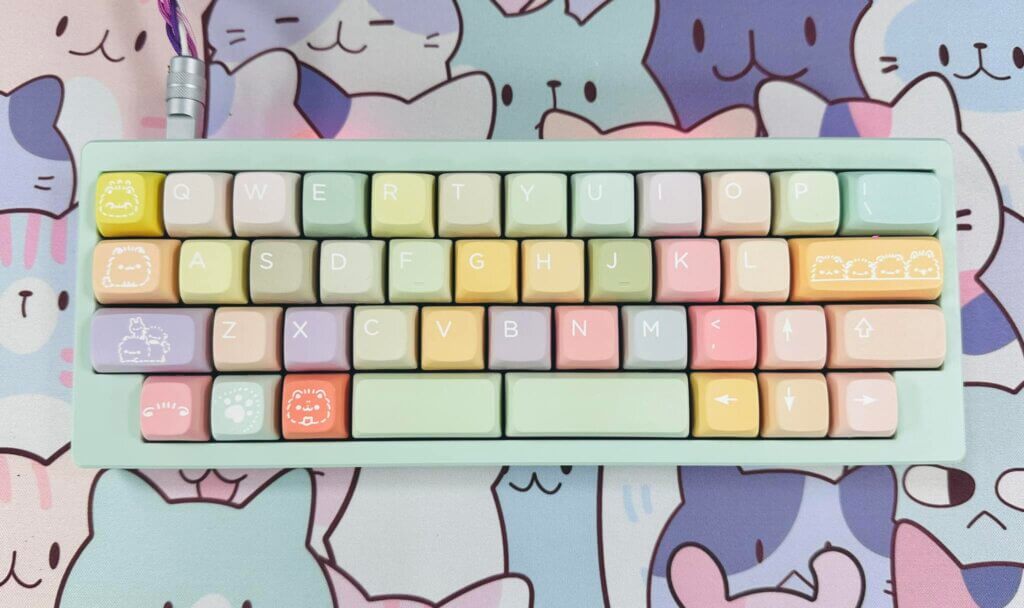 Vortexgear's 40% keyboard stands out for its high quality, robust aluminum frame and compact aesthetic. Customizable with Cherry MX switches, it comes with PBT keycaps which feel textured and don't get greasy over time like most other keys do.
At $95, it is a bit more expensive, but worth the extra cost. Detachable micro-USB cables make it easy to take the keyboard wherever you go. Just be sure to buy the cable separately if you don't get it with the keyboard.
Vortexgear has made sure to include a variety of key customization options in their 40% keyboard, with four programmable layers and the ability to individually design each key.
Furthermore, the LED light changes color to indicate which layer is currently in use.
This keyboard is built with a durable aluminum frame that provides a solid build but, at 1 kilogram, can be considered a bit on the heavy side.
The added weight may be a downside for those looking for greater portability, however the high-quality of the frame should not be overlooked.

If you're looking for a lightweight, portable keyboard that won't break the bank, the Qisan Magicforce is the perfect choice. At just $54, you won't find a better deal.
With programmable 40% keys, you'll get a great experience without having to use a desk. The ABS keycaps provide smooth movement, though over time they may start to feel a bit greasy due to the shine.
It would have been nice to have had PBC plastic, but for the low price, it's hard to complain about the material.
This keyboard is ideal for working in an office or at home when others are sleeping, thanks to its Gateron Brown switches — the Chinese equivalent of Cherry MX Browns — which provide a quiet and tactile feel to the keys. The ice blue backlight provides a nice look, making it perfect for late night workers who rely on the backlight to see their keys.
Additionally, its lightness — weighing under a pound — and detachable USB cable make it great for taking with you on the go.
Best 40% Keyboard Kits
If you're looking for a customizable keyboard build, kits are your best option. Included in the package is a PCB, case, and plate, which make the process of putting the base together simple and stress-free.
However, you'll have to purchase and order additional parts yourself. Switches, keycaps, and stabilizers need to be acquired and installed independently. Unless you have hot swappable switches, soldering might be needed to attach the switches to the keyboard.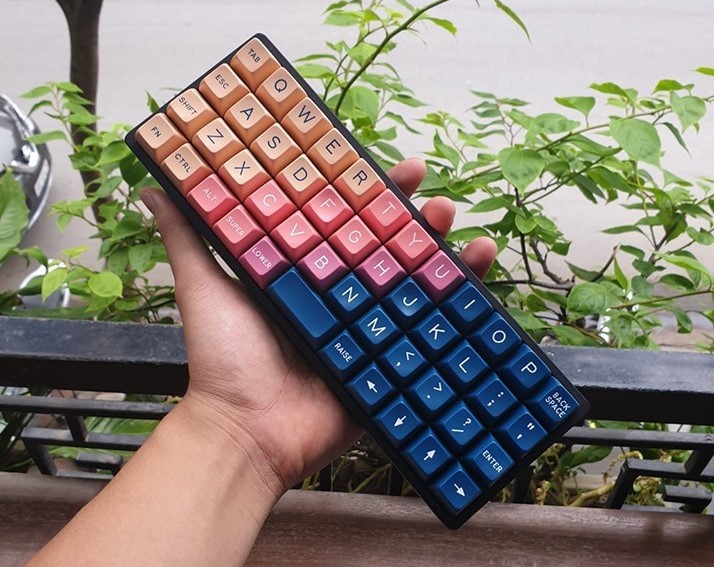 Planck 40
The Planck keyboard kit is ideal for those who value customization, as it allows you to assemble the PCB and choose from multiple colors of aluminum-crafted cases.
Both an upper and lower case are necessary to complete the build, increasing the cost to a minimum of $200. This does not include the switches or keycaps, which must be purchased separately.
Although pricey, for the keyboard enthusiast, the Planck is a worthy investment for its premium quality and personalization options.
If you're not into the DIY scene, the Planck EZ is the perfect solution for you. This preassembled keyboard is easily ordered online and comes with an RGB backlight and ortholinear keys that reduce the amount of finger movement needed. It also has hotswappable switches with eight Cherry MX and five Kailh options so you can find the switch that feels perfect for you.
No matter what your preferences, the Planck EZ has your back.

YMDK40
Customization is key when it comes to the YMDK – an excellent kit for keyboard aficionados who prioritize aesthetics.
You can choose from four different keyboard layouts to craft a keyset that suits your typing abilities and comfort.
The four programmable layers and an array of color options give you the power to pick out exactly what you need and want. It doesn't get any better than this!
If you're looking to create your first custom build without breaking the bank, the YMDK is a great choice.
At a price of $80.00 for the case, frame, and PCB, it's a much cheaper alternative to the Planck.
It's also got plenty of customization options: the CNC aluminum case is available in coffee, black, navy, silver, rose, and gold, each with either a black or silver plate.
However, the kit doesn't include switches, stabilizers, and keycaps, so those are extra purchases you'll need to make.
Other Great 40% Kits You Might Want To Take A Look:
Conclusion
Are you interested in the ultimate space-saving keyboard? Then you need to look no further than the 40% mechanical keyboard. Whether you're after a pre-built model or a kit, these mini keyboards are a great way to give your setup a unique look.
We've put together a comprehensive list of 40% keyboards for you to check out. And for those looking for something a bit more unique, there are a few discontinued models too, that can still be found online if you're willing to put in a bit of extra effort.
So, if you're after a fun and unique keyboard experience, a 40% keyboard could be the perfect option for you. And with something for those on a budget and those willing to splash out, there's something for everyone.