For those who have never done it before, soldering might be a frightening undertaking. However, you need a set of top-notch soldering tools on hand if you want to explore the world of bespoke mechanical keyboards or simply modify your present board.
This post examines the very least that you could require along with some practical optional add-ins to simplify your life.
The goods we propose have alternatives available. However, in our experience, this has proven acceptable and sufficient to deal with in both the desoldering of prebuilt circuit boards and the building of several unique mechanical keyboards.
But first, a word of caution. Soldering irons may harm people, objects, and animals by reaching extremely high temperatures. Additionally, breathing in soldering smoke might result in long-term lung issues. Please make the purchases you believe are required to protect both yourself and others in light of this.
This is a simple list or checklist that you may use as a guide while you buy. Below that, we'll go into more depth about each item and explain why we chose it.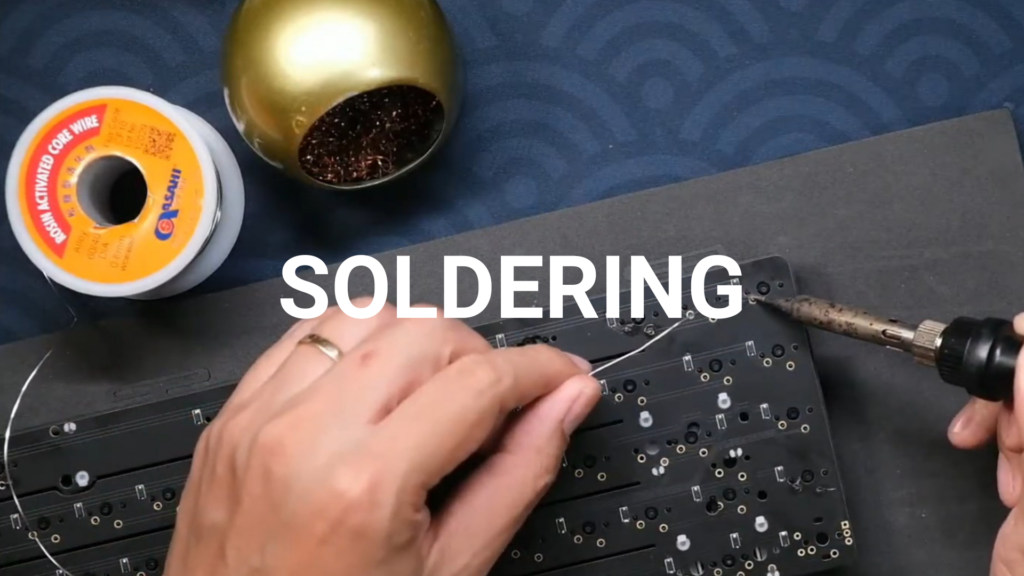 Recommended Keyboard Soldering Tools
| | | |
| --- | --- | --- |
| Soldering Iron | UY CHAN TS100 | Temperature changes are simple thanks to the OLED display panel. |
| Solder Wire | Kester 63/37 SN/PB | Desoldering is made easier by the soft, workable material. |
| Optional: Tweezers | Hakko CHP 7-SA | With a fine tip, antistatic |
| Ventilation Fan | Aoyue AO486 486 Smoke Absorber | For safety reasons, soldering inside is required. |
| Solder Iron Stand | Aven 17530 Soldering Stand | to stop the hot iron from harming the environment and other people. |
| Insulation Mat | Kaisi Heat Insulation Silicone Repair Mat | To shield the work surface from heat. |
| Solder Sucker | Engineer SS-02 Solder Sucker | This is necessary to correct errors if any are committed. |
| Optional: Screwdriver Kit | iFixit Mako Driver Kit | Detachable flexible extension tube and magnetic tip. |
| Optional: Magnetic Holding Tray | Katzco Magnetic Mini Tray | So that you don't misplace those rotating screws. |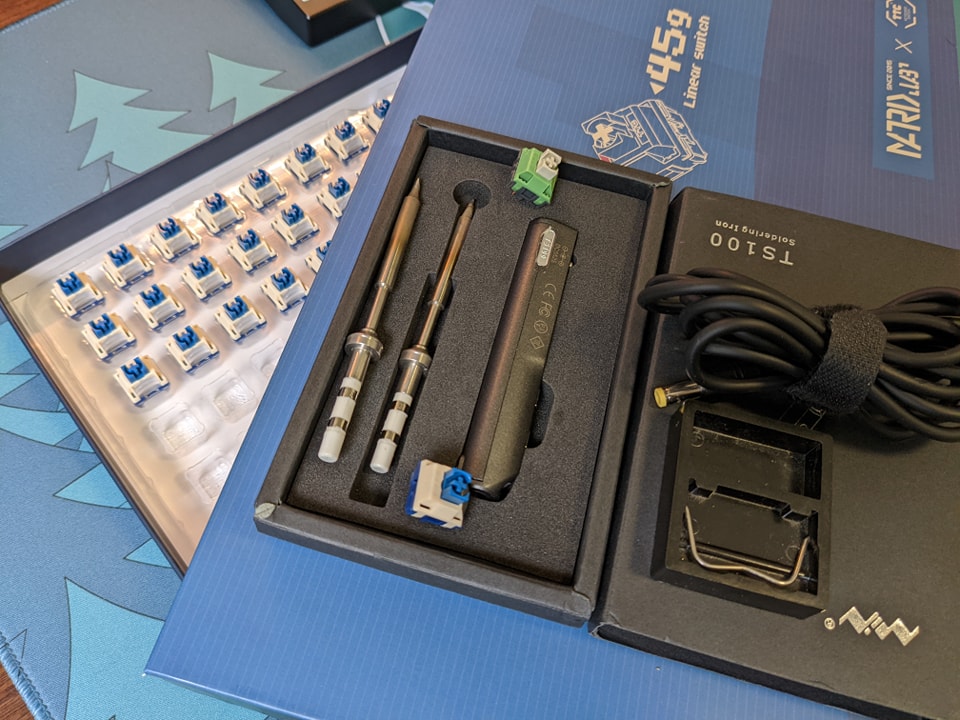 1. Soldering Iron – UY CHAN TS100
The UY CHAN TS100 is an extremely portable soldering iron. It is only slightly bigger than a large marker from Crayola or similar drawing tools.
Box Contents and Portability
You may find everything you need to get started inside the box. We do advise you to buy a few more things first, though, before starting to assemble your own mechanical keyboard.
Contrary to some of its rivals, it has a power adapter that is plugged into the wall before being connected to the iron. As a result, the iron itself has a detachable power line.
It also includes an extra adapter so you may use a portable power source instead of a wall outlet to connect the iron to it. Please take note that a separate battery with an XT60 connection is needed for this.
You receive a little tip cleaner and a smaller iron stand. However, because of its visibility, this offers no defense against the hot tip.
The iron's connector is global and may be used to connect power banks, automobile adapters, and even laptop adapters. really handy for portability. However, because you're probably doing this at home, none of that is necessary.
Why It Is Recommended
Due to its OLED temperature display and simple temperature change with its two buttons on the side, the TS100 is excellent for soldering keyboards.
It's simple to switch between soldering and desoldering. Additionally, you may put it in standby mode while not in use.
It rises very quickly, and you can get different soldering iron tips for it as well.
Easy installation is another consideration. It's simple to connect everything in, put everything together, and begin using it. Of course, you are ready to go after the first installation.
2. Solder Wire
Using the incorrect solder wire might result in a variety of negative effects. Just take my advice here and get the nice goods since I've done it.
Good stuff refers to a solder that contains a significant amount of lead. Desoldering will be challenging if there isn't much lead.
Additionally, as the wire needs greater temperatures to liquefy, it will be more difficult to make a neat soldering junction.
With several keyboard customizations, a spool of solder wire will last you for a very long time. A spool will still last you a long time even if you want to undertake several through-hole constructions like the Discipline65.
High-lead soldering wire comes in a variety of brands, but we prefer this one since you receive a lot of it.
3. Tweezers
When dealing with electronics, a decent set of tweezers is required.
The amazing thing about this particular pair is that they have a precise tip and are anti-static. This bad boy will allow you to maneuver its way back to you if you loose any screws or anything else.
The fact that it is non-magnetic is advantageous if you are working with delicate devices. I don't want to unintentionally ruin things.
4. Ventilation Fan
Although it is one of the optional supplies, it is strongly advised for safety reasons.
When you solder, smoke is released into the atmosphere. Long-term inhalation of this can result in lung damage that is irreversible and breathing issues like asthma.
It may be expensive, but it's really necessary. Alternatively, you may solder outside in an area with good ventilation, where the wind will take up the smoke and carry it away from you.
It does simply plug into a power socket, and the rear has an on/off switch.
5. Solder Iron Stand
Despite the fact that the suggested soldering iron has a little iron stand, we do not advise using it because it exposes the hot iron tip. And because it's so fragile, it's quite simple to knock over.
It is much preferable to get a separate stand like this one. The tip is concealed. Due to its larger weight and strengthened bottom, it is also significantly more durable.
Additionally, a brass tip cleaner is included. You'll notice that residue builds up on the tip of your soldering iron as you solder. If you don't clean this tin off, it could slip into the next joint you smoke.
You may remove the extra material by wiping it off with the brass tip cleaning while still having your iron ready to use.
Definitely useful if you value accuracy and clean solder junctions or during extended soldering sessions.
6. Insulation Mat
If you're working on a surface that might be harmed by extreme heat, an insulating mat is advised.
Additionally, it keeps your supplies and equipment organized, including screwdrivers, screws, little trinkets, and other necessary items.
Your iron's temperature will often rise much beyond 300 degrees Celsius while soldering.
Although this is not required, it is nonetheless advised for safety reasons.
7. Solder Sucker
There are a lot of solder suckers around. This one, however, is reasonably priced and trustworthy.
Even while the procedure might be a little messy, cleaning it is rather simple. Additionally, this little guy's longevity is increased by the fully replaceable silicone nib at the end.
The Engineer SS-02 is simple to use; all you have to do is push the plunger all the way down and click the button when you're ready to remove the solder.
However, if you want to desolder frequently, we advise purchasing a specialized tool, like the Hakko FR301, which you can view here on Amazon. When you simply click the button while it is on, a miracle occurs. But the price is high.
Conclusion
The purpose of the remaining two tools on the list, which are optional, may be inferred from their appearance alone.
I hope this list was useful to you. Almost everything was chosen by hand, and we exhaustively tested these items on a variety of custom keyboard boards.
Over $200 USD, without including VAT, is the entire cost of everything you require. Optional products are not included.
Despite all of that, you should be able to use these goods for all of your soldering requirements for many years to come.