Choosing the right mechanical keyboard case and layout for your next custom keeb could be super confusing if you don't really know what exactly you are looking for.
It is very fun and interesting when building your own mechanical keyboard because you can choose anything that you want.
You can pick any type of switch, such as clicky, linear, or tactile, a special customizable cable, and a keycap set, which will be the last piece of your build.
Before getting to that, you will need to have a solid foundation to put all the parts together nicely. It is the mechanical keyboard case, which is the first part you should buy.
We can say that the quality of your custom keyboard greatly depends on the case.
It either ruins your build or makes it perfect.
But don't worry if you are new to this because in this article, we will list all types of keyboard cases and their sizes and materials. And hopefully, it will help you pick the right case for you.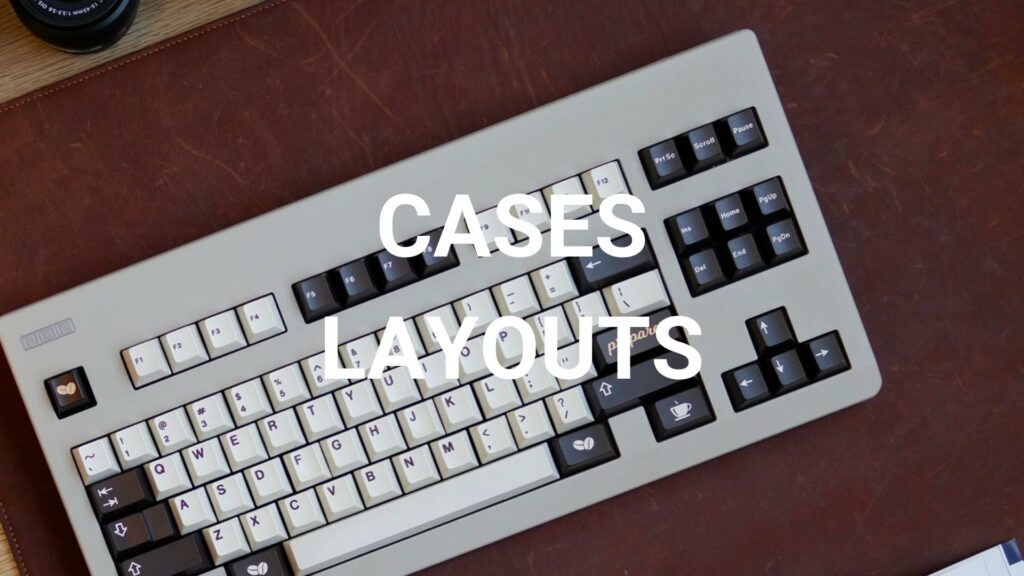 Keyboard Case Sizes
There are several sizes of keyboards, and they are relative to the full-size normal keyboard, which is 100%.
A full-size keyboard (100%) will have a numpad, which is very important for people who work as accountants or enter a lot of data.
A 40% keyboard is the smallest one. It doesn't have a number row, function (F) row, navigation or cursor keys, and numpad. It only has a limited number of punctuation keys.
A 60% keyboard is quite similar to a 40%, but it has the number row.
A 65% keyboard has some extra buttons like the cursor and navigation keys (Page up, Page down, Delete, Insert, End, and Home).
A 75% keyboard is like the keyboard on a laptop, where you can find almost all the keys except for the numeric keypad.
Please take a look at the keyboard layout infographic by Minehacks below for more details!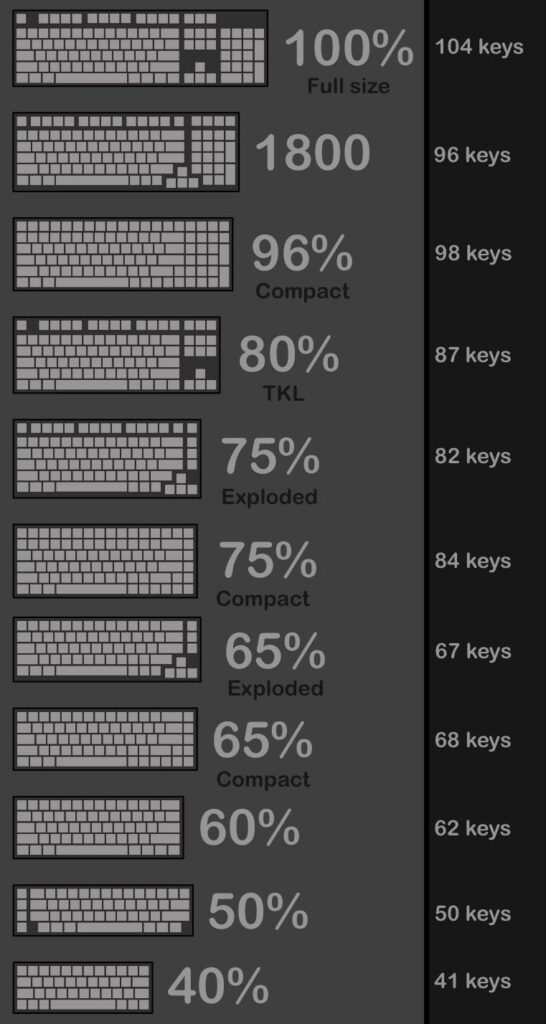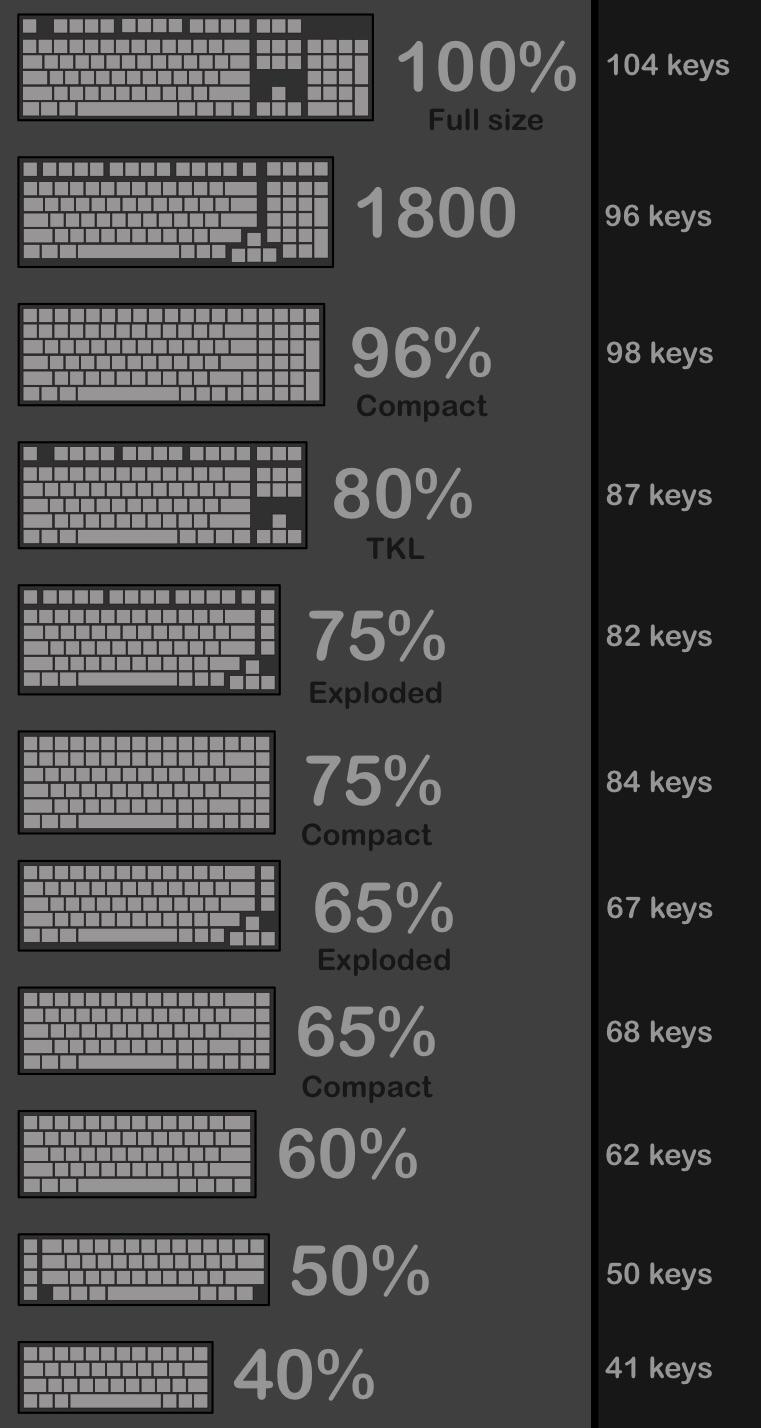 Which keyboard layout is the best?
The best keyboard layout really depends on personal preference. You may find that 75% is the right choice if you feel the numpad is unnecessary.
If you want to save some space for your desk or normally carry the keyboard around, then the 60 or 65% is the best choice. You can still get full access to the keyboard by using Fn keys and some key mappings.
Note that it is very important to match the size of the printed circuit board and plate. If not, they won't fit together. The easiest way is to buy a kit that includes the PCB, case, and plate together.
Once you have decided on the keyboard size, you need to choose the material for your case. There are plenty of them, each of them has their own unique characteristics, such as look, feel, and weight. They will affect your keyboard and typing feel in many ways. Again, it all comes down to personal preference and your budget to choose the most suitable one.
Mechanical Keyboard material types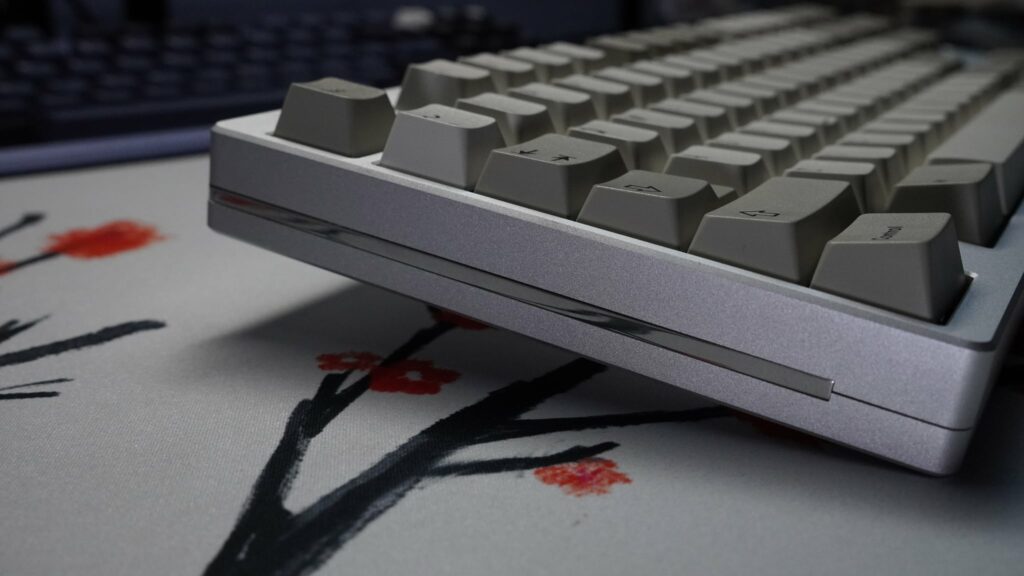 Aluminum
It is the most expensive one here since it is normally used on high-end keyboards. However, it is worth the price due to its premium look and feel. In addition, the added weight is quite helpful during heavy work or play time since it prevents your keyboard from moving.
There is one downside for this option. It is its sound, since typing on an aluminum case will have a much louder sound than other cases so you might want to make it quieter. In addition, it delivers a more metallic and hollow sound. But there is a fix, which is to use dampening material such as foam or silicone.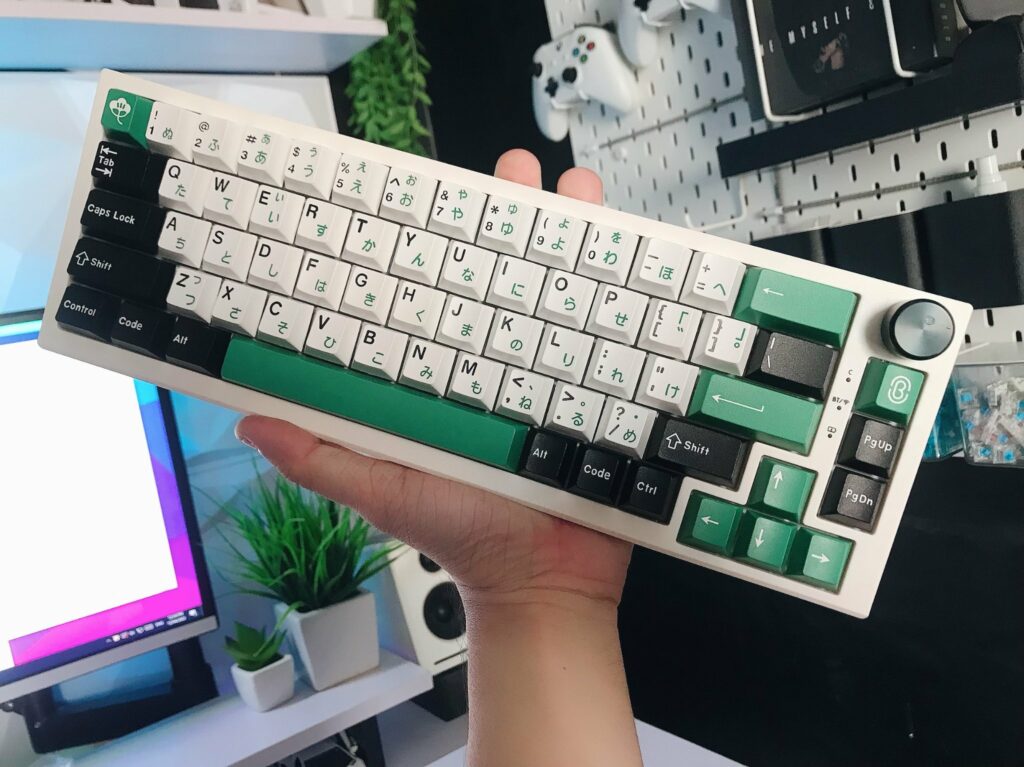 Plastic
Plastic cases are very common in budget keyboard builds and pre-built keyboards. They normally come in black, gray, or white, so you are quite limited in color choice.
Plastic cases are made of ABS plastic and have a metal plate to provide support for the structure of the case. The ABS plastic can significantly reduce the overall cost of your keyboard since it is very cheap. The plastic case is very lightweight and has very good resistance against corrosive chemicals and physical impact.
Many people will find the plastic cases unstable when typing. This can be fixed by putting a metal plate or dampening material inside the keyboard.

Polycarbonate
This material is quite similar to plastic. However, its quality is much better. Everything from the feel to the finish is way more premium. There are also various numbers of designs and colors for you to choose from. Therefore, it is more expensive than plastic, but it is a very good alternative.
Polycarbonate cases are very lightweight, like plastic. To make them sturdier, the manufacturer put weights at the back of the case to make them heavier.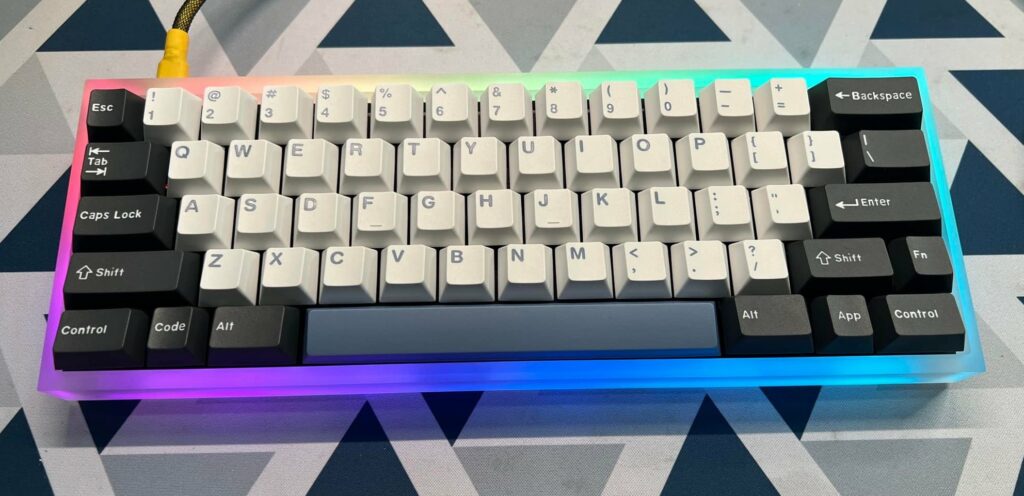 Acrylic
Acrylic cases are a pretty interesting option for those who enjoy RGB LEDs. It is mainly because these cases allow light to shine through, which creates a neat effect of RGB lightning.
These cases normally come in two forms, which are stacked acrylic and frosted acrylic. Stacked acrylic is made of different layers that are stacked on top of each other. It can normally be found in unorthodox layouts. Frosted acrylic is very popular for builds that have back lights.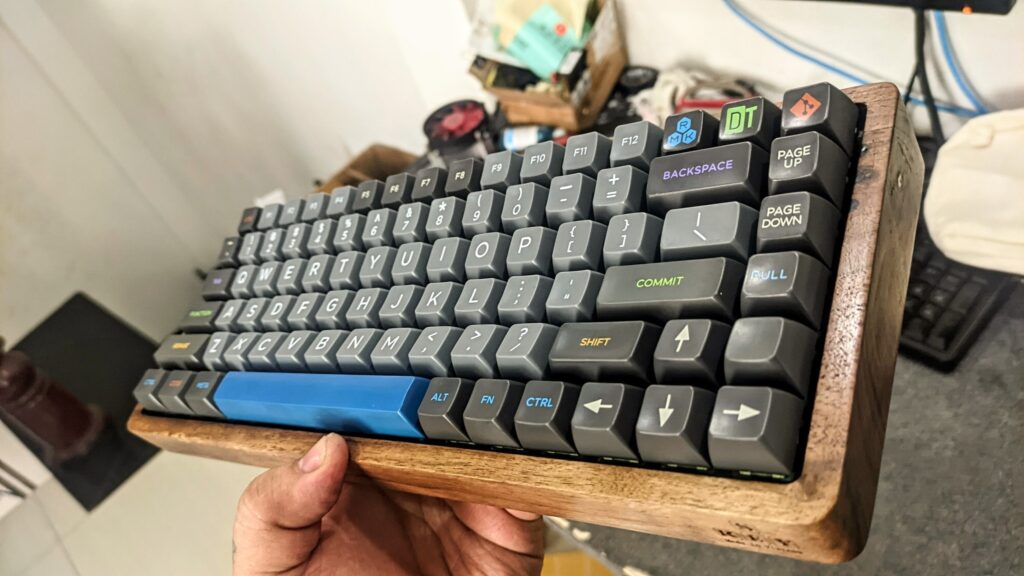 Wood
Wooden cases are the least common option for custom keyboards. Their price typically stands alongside with aluminum cases since they require lots of work to prepare, like cutting, sanding, and finishing. Rosewood, zebra wood, and walnut are the most common wood types.
Wooden cases share the same weight advantage as the heavy aluminum, so you can expect a solid and nice feel when typing.
Case Mounting Styles
Keyboards have a lot of different mounting styles and configurations. There are many styles, like tray mount, top mount, bottom mount, sandwich mount, plateless mount, integrated plate, and gasket mount.
Custom mechanical keyboard cases come in many different shapes and sizes.
While each case has unique qualities, the way in which keyboard components are mounted often boil down to a number of different styles.
Some designers might combine concepts from various styles to incorporate the various benefits of the different mounting styles.
Each of those styles can decide how the plate and PCB are secured in the keyboard housing. Depending on your case and the typing style you are looking for, select the one that fits you best!
Tray mount: The PCB is attached to the
Top mount: The PCB is attached to the top frame of the case.
Bottom mount: The PCB is attached to the frame part of the case.
Sandwich mount:
top mount, bottom mount, sandwich mount, plateless mount, integrated plate, and gasket mount
Tray mount
The PCB is affixed to the case utilizing screws, mounting into threaded mounting posts. Holes in the plate allow for the screws to be installed.
Top mount
The plate is attached to a top frame, which is attached to the bottom of the case.
Bottom mount
The plate is attached to the bottom frame. The top frame is optional, making it much like a sandwich mount.
Gasket mount
A form of dampener, often elastic material, is inserted between the
top frame and case.
Many variations available, using various materials and form factors.
Most mounting styles can be made into a gasket mount.
Sandwich mount
The bottom case, plate and top frame are layered on top of each other, then affixed with a screw from the bottom.
The top frame is optional, making for a low profile case.
Plateless mount
Like with a top or bottom mount case, the PCB can be affixed to either a top frame or the bottom case. Plateless top mount is shown.
Also known as PCB mount.
Integrated plate
Conclusion:
Tons of things are to consider when choosing a keyboard case and customize it.
You need to figure out your keyboard size, material type, and mounting style.
Choosing all of them can be quite difficult and can take lots of time.
So if you can't decide which to choose, you can go to an online store to pick the available kits that you like and fit your pocket. But don't forget to write down a comment below if you need any help first, and we will do our best to help you!