This list will provide you all the necessities as well as a few nice-to-have things, whether you're wanting to upgrade your mechanical keyboard, locate the tools to construct your first custom keyboard, or are just looking to add a few more tools to your collection.
You may find out all you need to know on this website to assemble a unique mechanical keyboard.
We have pieces for a tailored, 60 percent mechanical keyboard that will look, sound, and feel wonderful for about $200.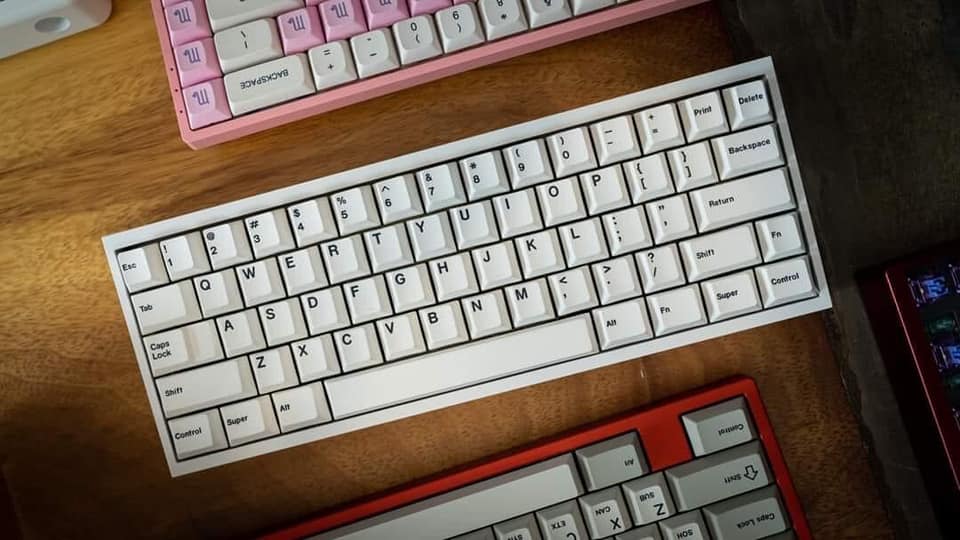 Starter Build Suggestion (Under $200)
1. 60% Aluminum Keyboard Case
Available in a range of colors, aluminum casing. comes with four rubber bumpons, screws, and matching aluminum feet.
2. 60% Plate
Supports a variety of layouts, including separate backspace and space bars, ISO/ANSI, and switch top removal. supports several bottom rows as well.
3. 60% PCB: DZ60 RGB
Totally configurable with QMK firmware and RGB underglow. supports a variety of layouts and 5-pin switches. Connects through a Mini-B USB port or USB-C port.
4. All-Around Favorite Switches: Gateron Yellow Milky Pro
Extremely smooth linears with a somewhat higher weight than reds are called Gateron Yellows. They are smoother than even the most expensive stock switches with lube.
5. Cherry PCB Stabilizers
4 2u stabilizers and 1 6.25u stabilizer are included in a set to support 60% of keyboards. furthermore offers the choice of a 7u spacebar stabilizer. Genuine Cherry stabilizers of the highest caliber should be lubricated.
6. USB Cable
The majority of custom kits don't include a cable, so you'll need to buy one to get it to function. This one is really flexible and stylish because it works with USB-C, micro-USB, and mini-USB ports.
Recommended Tools for Keycaps
Shine-Through keycaps
With all 104 keys accessible and robust double-shot PBT keycaps to accommodate 60 percent, TKL, and full-sized layouts, this is a fantastic, reasonably priced solution.
Without Shine-Through Keycaps
A set of Cherry-profile PBT keycaps with permanently dye-sublimated legends. Excellent for individuals who like a keycap with a smaller profile and don't mind RGB showing through.
Important Tools: You MUST Have These
Adjustable Soldering Iron: TS100
The TS100 works well for both soldering switches on and desoldering them if you make a mistake. Unless you have a board that can be hot-swapped, this is crucial. It features a temperature reading panel and is incredibly portable.
Solder Sucker: Engineer SS-02
The Engineer SS-02 is helpful when you realize you made a mistake because it's simple to use, inexpensive, and straightforward to maintain.
Solder Wire: Kester 63/37 SN/PB
Solder is necessary. Switch desoldering is made considerably simpler by the presence of lead solder. When not in use, it may be stored easily and is a suitable size.
Switch Puller: Antistatic Extractor Tool
The plastic switch pullers that come with hot-swappable boards are far more convenient to operate. Additionally, it comes in a pack or two so you may work on keyboard-related tasks wherever you are. Don't worry about losing one either.
Precision Screwdriver Kit
When opening cases, removing switches without a switch opener, and assembling your keyboard, having a screwdriver set with several bit types will be useful.
Wire Keycap Puller
You can swiftly change keycaps using a wire keycap puller rather than having to touch them with your fingers, and it won't harm your keycaps.
Solder Fume Exhaust Fan
Definitely a need if you plan to solder inside. If you're outside, you may enter a space with good ventilation and be OK.
Excellent Tools (Makes Life a LOT Easier)
Soldering Stand
Despite not being absolutely necessary, keeps you secure when your soldering iron is not in use. includes a spot to wipe the tip of your soldering iron as well.
Heat Insulated Mat
This mat is strongly advised if you're working on a surface that can burn or isn't protected. The temperature of the soldering iron often surpasses 300 degrees Celsius. Additionally, it stores all of your little parts and screws in a location that is simple to find.
USB Cables
It's very handy to have a USB cable that can suit several different ports, especially if it complements your setup and is fashionable.
Magnetic Holding Trays
This might seem a bit excessive, but it will come in handy when working with little screws that could move around and get buried in the crevices.
Tools for Lubing & Filming Switches
Switch Opener
Your life will be a million times simpler and you'll save a ton of time if you have a switch opener. Instead of attempting to open each one while chipping your nails, just push each switch before separating them. Easy as pie.
Switch Films
Switch films aid in preventing switch wobbling, which causes switches to sound and feel sharp and thocc-y, and tightening up your switches.
Lube for Switches
The task is made considerably simpler by using the proper switch lubrication. 205g0 is a fantastic all-purpose lubrication for linear and tactile switches in terms of its kind. Usually, this lubricant is thicker.
Lube for Bag Lubing Springs
By placing the springs in a bag with a few lubricant droplets inside, springs are considerably simpler to lubricate. Then give it a thorough shake. For this, a thin lube is required.
Ziploc Bags (for Bag Lubing Springs)
Bags are required for bag lube. With these bags, you can shake all of the springs about without having to worry about blowouts, which may quickly get nasty.
Paintbrushes
For lubricating your switches, size 00 is ideal for getting into all the nooks and crannies. There is enough to lubricate switches for many years, and if you wash them thoroughly enough, they may be used again.
Antistatic Tweezers
You may pick up the springs more easily and without lubricating your fingertips by using an excellent set of tweezers. When handling microscopic items, tweezers are a need.
Pronged Pick-up Tool
This tool makes lubricating the switch stems considerably simpler for those with awkward fingers. Pick them up and without worrying about your fingers or dropping it, spin the stem while lubricating it.
Tools for Modding Stabilizers
Fabric Bandaids
These are excellent for the bandage mod and, I imagine, for protecting your fingers from wounds.
Flush Cutters
Great for using as a wire cutter to add LEDs to your keyboard or work on through-hole constructions, as well as for clipping the tiny foot of your stabilizers.
Stabilizers Lube
A thicker lubricant is required for stabilizers; typically, Krytox 205g0 is used. improves the sound and feel of your stabs by adding more smoothness.
Scissors
A trustworthy set of scissors for cutting cloth and opening parcels.
Tools for Sound Dampening
Neoprene Sponge
A microscopic layer of sponge material small enough to fit within your keyboard casing.
Desk Mat
Simply put the desk mat below your keyboard to improve aesthetics and lessen sound reflection off the desk.
Sorbothane
A substance that is known to be rubbery and to reduce and attenuate sound.